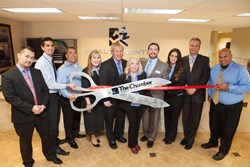 Healthpointe Urgent Care Rated 4.8 out of 5 stars on average by their patients.
Long Beach, CA (PRWEB) November 25, 2013
Healthpointe Urgent Care, Southern California's leading multidisciplinary healthcare organization, is proud to announce the opening of a new Urgent Care in Long Beach.
Healthpointe Urgent Care offers unparalleled benefits for all patients who are looking to receive immediate care. Benefits include minimal-wait times, affordable costs and premium quality service. In comparison to emergency rooms, Healthpointe facilities are known to save money and time while providing the most compassionate and efficient care. Expect your urgent care needs to be fulfilled in less than an hour.
The Long Beach Urgent Care facility has board-certified physicians and fully-trained staff. It will be furnished with the most advanced medical equipment, such as X-Rays, ultrasounds and other digital diagnostic studies, to properly diagnose your injuries and provide the most suitable treatment available.
Additionally, their Medical Center will provide emergency treatment for colds, flus, allergies, chest/stomach pain, sports injuries, cuts/lacerations, fractures, urinary tract infections, diabetes issues and other non-life threatening injuries. Patients can also receive physical examinations, school sports physicals, immigration physicals and DOT physicals.
Healthpointe offers a comprehensive variety of services including, but not limited to orthopedic care, physical therapy and occupational medicine. Their facilities also handle workers' compensation cases.
Healthpointe is honored to provide its services to the great community of Long Beach. For further information, you can call Healthpointe Urgent Care at (888) 755-4850 to schedule a same day doctor appointment.
About Healthpointe Urgent Care:
Healthpointe Urgent Care (healthpointemd.net) is an established medical organization with over 40-years of service. Healthpointe continues to deliver the finest, premium care for all patients. Based in La Mirada, California, Healthpointe Urgent Care offers the convenience of 10 locations in Southern California to better serve our patients.