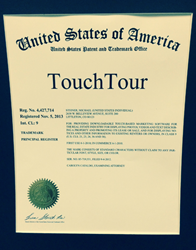 We love what we do, and we're in it for the long haul.
Denver, CO (PRWEB) November 21, 2013
Engrain (http://www.engrain.com), the leading provider of virtual tour and resident interaction systems, has been granted a registered trademark for TouchTour, the name of its virtual property tour and resident interaction system.
"TouchTour has been making a name for itself in the real estate industry for quite some time, and is perhaps the most recognized brand on the market," said Audrey Bolema, marketing and business development director at Engrain. "While that recognition has been key to our rapid growth, there is also a sense of satisfaction that comes from having 'TouchTour' thoroughly researched and officially recognized by the federal government. It's been a long process but well worth the wait."
TouchTour units are large (42" to 70") multi-touch panels with a user interface and branding that is custom-crafted for each property. They are used by prospective residents and sales/leasing agents to provide in-depth virtual property tours, local area information and other services. When not in use by prospective or current residents, the screens display community notifications and otherinformation.
"At its simplest, the registered trademark is just a legal designation," adds Bolema. "But we feel that it speaks volumes about our commitment to this product, this industry and our customers. We love what we do, and we're in it for the long haul."
About Engrain
Engrain is a leading provider of immersive touch screen technology and award-winning digital branding and design services for the luxury real estate market. Its TouchTour® system is used at some of the most prestigious properties in the country. Founded in 1995 and based in Denver, the company works with clients throughout the U.S.
For more information, please contact Audrey Bolema, 303-903-3863 or audrey(at)engrain(dot)com.