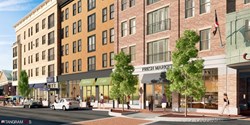 Portsmouth, NH (PRWEB) November 20, 2013
Portwalk Place has announced 12,000 square feet of existing street-level retail space is now fully leased to British Beer Company, Seacoast Spine and Sports Injuries Clinic, and the soon-to-be-opened BRGR Bar restaurant, along with the existing Portsmouth Harbor Events and Conference Center. In addition, CBRE/Portsmouth has been retained as the exclusive leasing agent on 20,000 square feet of new, premier retail, restaurant and office space in the final phase of Portwalk Place. The final phase will be ready for occupancy in the summer of 2014 and is targeting LEED Silver Certification.
In addition to the mix of office and retail space, the final phase of Portwalk Place will have 113 luxury apartments, a 260-car parking facility, and a 120-room Hampton Inn and Suites.
"This new space in Portwalk Place is ideal for retail and restaurant tenants who want to be in the heart of pedestrian traffic downtown, and capitalize on the 580 total hotel rooms and 175 new apartments within a block radius," said Kent White, principal broker/partner of CBRE/Portsmouth. "Tenants like day spas, or breakfast and lunch spots offering indoor and outdoor seating, would be a perfect match for this street level location."
The available retail/restaurant spaces are:
4,100 +/- square feet along Portwalk Place that can be subdivided down to 1,100 square feet
2,800 +/- square feet at the corner of Deer Street and Portwalk Place
2,600 +/- square feet at Hanover Street and Portwalk Place that can be expanded to 4,500 +/- square feet
The available Class-A office space will be at the corner of Maplewood Avenue and Hanover Street and can be subdivided to accommodate configurations of 1,500 to 10,000 square feet. In addition, the 10,000 square feet of office space has on-site parking available which, according to White, is an essential amenity for high-end users, especially in this market.
"All high-end office space users want and need parking specifically available to them at their location," said White. "This truly is a unique opportunity for a Class A office user looking for a signature location. With Portwalk Place's ideal location – strolling distance to the waterfront and all the boutique shops, theaters, art galleries, parks and everything else downtown Portsmouth has to offer - we expect to attract a number of tenants looking for prime space with an exciting urban energy."
For leasing information contact Kent White at 603.570.2699 kwhite@cbre-portsmouth.com or Christian Stallkamp at 603.570-2696 cstallkamp(at)cbre-portsmouth(dot)com or visit http://www.cbre.com/portwalkplace
PHOTO
A view of some of the street-level retail space available at Portwalk Place's phase 3, which will be ready for occupancy by summer 2014.
About Portwalk Place
Portwalk Place has begun its third and final phase of development, including a 120-room Hampton Inn & Suites Hotel and the second phase of The Residences at Portwalk Place, 113 new luxury apartments that will be ready for occupancy in the Summer of 2014. The LEED-certified Portwalk Place currently offers the Marriott Residence Inn, the Portsmouth Harbor Events and Conference Center, additional retail and restaurants, and the popular Residences at Portwalk (http://www.residencesatportwalk.com). In the center of Portsmouth's historic and bustling downtown, Portwalk Place is where, "urban energy meets coastal New England charm and beauty," within two blocks of more than 30 restaurants, 20 stores, five art galleries, several cafés, numerous theaters and performing art venues, and dozens of specialty retail shops.