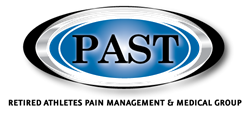 By the NFL players sharing their stories in this series, hopefully others can benefit and improve their quality of life.
New Jersey (PRWEB) November 21, 2013
The P.A.S.T. Retired Players Medical Group and their work with retired NFL players suffering from symptoms related to concussions is featured in the new Condé Nast Entertainment and GQ web documentary series Casualties of the Gridiron.
The Brain Game episode is live today at pastusa.com and on the official GQ You Tube Channel it focuses on the cutting edge P.A.S.T. concussion treatment program for retired NFL and college players. The one of a kind, multi-disciplined treatment program has been successful in reducing symptoms known to be related to concussions and CTE. The episode takes viewers behind the scenes at P.A.S.T. and provides an intimate look at NFL players who are suffering from concussion issues as they battle their debilitating conditions and embark on the road rebuilding their lives.
"I am afraid to find out what is going on in my brain and about the symptoms I am experiencing. I know they are related to the hits I took to my head during my career," said Ray Lucas, the former NY Jets quarterback who is featured in the series.
P.A.S.T., founded, by Dr. William J. Focazio is a group of world class medical specialists dedicated to making cutting edge, integrated medical and behavioral health care available to all retired athletes. P.A.S.T. has improved, and in many cases saved, the lives of former NFL players and other athletes. The P.A.S.T. concussion treatment program has been credited with helping many former NFL and college players improve symptoms associated with post-concussion issues. The medical and behavioral health protocols, which have proved successful for many athletes are also available to the public through P.A.S.T. and their affiliates including the Eternity Medicine Institute of New Jersey.
"We wanted to share the work we do at P.A.S.T., especially with regard to the complex issues related to concussions because it demonstrates to players of all ages and the general population who suffer from similar issues that something can be done, there is hope and there are solutions. We are grateful to CNE/GQ for doing this series and including our work so others can be provided with information and know that there is help out there", said Dr. William J. Focazio, Founder and CEO of P.A.S.T. "By the players sharing their stories in this series, hopefully others can benefit and improve their quality of life."
The hard hitting Casualties of the Gridiron series follows a group of retired NFL players who are P.A.S.T. patients including former New York Jets quarterback Ray Lucas, San Francisco 49ers linebacker Terry Tautolo, Minnesota Vikings guard Brent Boyd , Army fullback Gene Merlino, Tampa Bay Buccaneers center Randy Grimes and Washington Redskins wide receiver Charlie Brown. Dr. William J. Focazio, P.A.S.T. medical specialists and Jennifer Smith P.A.S.T case worker are also featured. New episodes of the groundbreaking series will premier each Monday.
"We all knew that we would get injuries when we played but Junior Seau's death scared me," said Brent Boyd former UCLA and NFL player is also featured in this episode. "The symptoms I have been suffering for decades like fatigue, headaches, poor memory, depression, won't go away. When I went to P.A.S.T. the key word I kept hearing was solutions and now I have hope".
P.A.S.T. also facilitates unique youth sports education programs through their 501(c) (3), P.A.S.T. Teams. Programs empower young athletes and address serious issues they face such as pain killer addiction, concussions, steroid use and peer pressure. Programs are facilitated by the players who have successfully addressed these issues through the P.A.S.T. program.
For more information visit P.A.S.T. at http://www.pastusa.com and follow P.A.S.T. on Facebook at P.A.S.T. Facebook.
Media Opportunities Available With the Following:

Retired NFL players featured in the series and others.
Dr. William J. Focazio, CEO of P.A.S.T.
P.A.S.T. Medical Specialists
Jennifer Smith , P.A.S.T. Case Worker /series Co-producer
Media Contacts:
Jennifer Smith Jennifer.past(at)gmail.com (920) 819-1560
Brenda Rapp brenwithjen(at)gmail.com, (214) 684-7680