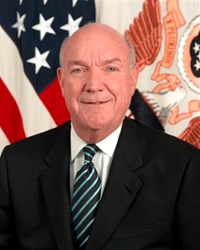 Lamont's recent executive role in our country's defense and national security sectors, as well as his past roles in law and higher education, is a natural fit for mCapitol. - mCapitol Management President Gary LaPaille
Washington, D.C. (PRWEB) November 20, 2013
mCapitol Management, a bipartisan government affairs firm in Washington, D.C, announced today the addition of former Assistant Secretary of the Army, Thomas R. Lamont as Senior Advisor.
Lamont, an Illinois native, was the first senior presidential appointee to the Dept. of the Army by President Barack Obama and served as the Assistant Secretary of the Army for Manpower and Reserve Affairs (2009-2013) where he was responsible for the supervision of manpower, personnel and reserve component affairs. He has an extensive background in law, higher education and governmental affairs, and most recently served as the Army's point person for policy and performance, with oversight of human resources, training, readiness, mobilization, military health affairs, force structure, equality issues and other critical matters as part of Army leadership.
"This partnership is designed to make sure our clients -- locally, nationally and globally – have the benefit of the most highly regarded experts in the nation. Lamont's recent executive role in our country's defense and national security sectors, as well as his past roles in law and higher education, is a natural fit for mCapitol. We're excited to move forward as strategic partners to enhance our offerings to current and prospective clients," said mCapitol Management President Gary J. LaPaille.
With an annual operating budget of $71 billion, Lamont's responsibilities included supervision of all active duty Army, National Guard and Reserve as well as 275,000 civilian and 300,000 contract employees. In his leadership capacity, he oversaw the elimination of "Don't Ask, Don't Tell"; the Army Marketing and Recruiting program; soldier and soldier family health and resiliency issues; the review and subsequent implementation of force protection measures related to the Ft. Hood shootings; policies affecting women in combat; the downsizing of the Army; and established the Army's first Diversity Management Organization.
"mCapitol Management is a government affairs firm with a reputation for superior relationships and outstanding work. I've known and worked with Gary in his roles as an Illinois State Senator and Party Chairman and it made perfect business sense to take the next step as strategic partners," Lamont said.
mCapitol Management represents Fortune 500 corporations, cutting-edge biodefense and telecommunications firms, local governments and major business associations. mCapitol Management has offices in Washington, DC and Chicago.