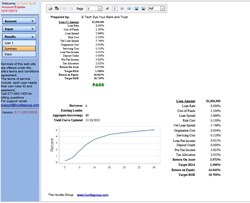 "Our PULPS™ Platinum solution gives banks the freedom to customize the modeling software to meet their unique return on asset and return on equity hurdles, yield curve and more," Phill Rowley
Schaumburg, Illinois (PRWEB) November 20, 2013
In an era of increased bank regulations and reduced profits, there is new hope for banks to reduce risk, improve relationships with customers, and even return a profit. The Hurdle Group, Inc today launches a solution to help banks achieve these results – PULPS™ Platinum Loan Price Modeling Solution.
The PULPS™ Platinum Loan Price Modeling Solution is a customizable, in-house loan modeling tool designed to help banks deliver more profit and improve consistency. Regulators are looking for banks to show profit in loan pricing using repeatable, consistent pricing methods. The PULPS™ Platinum Solution satisfies regulators and allows banks to achieve a competitive advantage while delivering profitable results.
"Our PULPS™ Platinum solution gives banks the freedom to customize the modeling software to meet their unique return on asset and return on equity hurdles, yield curve and more," explains Phill Rowley, expert on loan pricing and founder of Hurdle Group, Inc. "Even if the bank doesn't have an established cost structure, our Cost Wizard will help them create one."
Banks using the PULPS™ Platinum Loan Price Modeling Solution can compare multiple scenarios or multiple loans at once. The system delivers real-time results reflecting individual bank measurements using a "PASS/FAIL" outcome. When everyone within the organization is using the same modeling tool, banks will satisfy regulators with repeatable consistency.
New users can experience the PULPS™ Platinum Loan Modeling System free for 30 Days by signing up at http://hurdlegroup.com/Request-more-info.html.
About The Hurdle Group: The Hurdle Group services are based on the work of Phill S. Rowley. Phill, a co-founder of The Hurdle Group Inc., is one of the nation's foremost experts on loan pricing. For more information or to start a free trial, visit http://www.hurdlegroup.com or read more in Phill's blog: http://hurdlegroup.wordpress.com/author/phillr/.
###