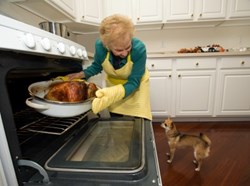 Santa Clarita, Calif. (PRWEB) November 21, 2013
With Thanksgiving just a few days away, pet owners should be aware that not every item on the table is pet-friendly. Many traditional thanksgiving dishes can be dangerous to pets due to their different dietary needs and digestive systems. To help pet owners keep the holiday as thankful and enjoyable as possible, Animal Behavior College (ABC) asked pet expert and author Lisa King to provide tips on Thanksgiving safety.

Make sure the trash canister has a properly fitting lid.
Remove all plastic bags, clips and ties from the turkey and throw them away so your dog cannot reach them.
Do not put appetizers on a low coffee table.
Exercise and feed your dog on his normal schedule.
Buy your dog a new interesting toy.
Ask your guests not to feed your dog.
Keep decorations out of your dog's reach.
For more Thanksgiving safety tips, including what foods your pet should avoid and which foods are okay (in small amounts) for Fido, check out Lisa's recent article in the November edition of "Petropolitan," ABC's e-newsletter.
Lisa King is a freelance writer and author of "Death in a Wine Dark Sea." She is also a former managing editor for "Pet Product News International," "Natural Dog" and "Dogs USA."
###
Animal Behavior College, founded in 1998, is a vocational school that specializes in animal-related career training. The school's unique structure incorporates a distance-learning and hands-on externship-training model. ABC offers programs for certified dog training, pet grooming and veterinary assistants in all 50 states and every Canadian province, making it the largest vocational school of its kind in North America. For more information, visit our website at http://www.animalbehaviorcollege.com or call 886-507-9874.