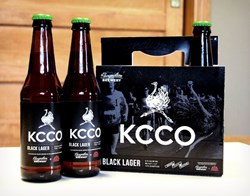 Seattle, WA (PRWEB) November 21, 2013
Resignation Brewery and theCHIVE.com Come to Seattle this Saturday to Debut New Beer
WHAT: Resignation Brewery, the new extension from the multi-faceted entertainment and digital media company, Resignation Media (theCHIVE.com, theCHIVERY.com), is hosting an exclusive launch party at Fadó Irish Pub this Saturday to kick off the release of its highly-anticipated beer, KCCO Black Lager, in Seattle. Tickets for the event sold out in just two minutes as fans jumped at the chance to be some of the first to sample the native beer which is brewed at the Redhook Brewery in Woodinville, WA.
WHEN: Saturday, November 23 from 6-9pm
WHERE: Fadó Irish Pub - 801 1st Street - Seattle, WA 98104
http://www.fadoirishpub.com/seattle/
BACKGROUND: KCCO Black Lager has mild notes of coffee and chocolate with a waft of smoke, but is very crisp and clean with a dry finish. The beer debunks the myth that that all dark beers are heavy and high in alcohol content, making it the perfect beer for any gathering.
PHOTO AND INTERVIEW OPPORTUNITIES: Learn first-hand what it means to be a Chiver and sample KCCO Black Lager. Photo and interview opportunities are available upon request only. Space is extremely limited to this sold out event, so all requests must be arranged prior to the event.
About Fadó Irish Pub:
Fadó (pronounced fuh-doe) Irish Pub, located 801 1st Street and was the first Irish pub to be designed and constructed in Ireland and shipped and installed in Seattle in 2000. Fadó is distinguished by its genuine Irish hospitality, quality of its pints and craic (pronounced 'crack', a uniquely Irish form of fun). Fadó has been voted 'Best Of' by a number of local and national publications, is the European sports headquarters and an official US Soccer Bar. Get in on the conversation on the pub Facebook page http://www.facebook.com/fadoseattle following Fadó on Twitter http://www.twitter.com/fadoseattle.
---
If you would like more information about this topic or to schedule an interview please contact Gerry Leonard, general manager at Fadó Irish Pub at gleonard (at) fadoirishpub (dot) com or 206-264-2700.