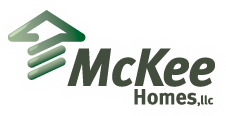 Our business model combines financial security through extremely low debt with customer service that reaches beyond industry standards. This stability makes moving into a competitive real estate market like Raleigh a logical next step. - Pat McKee
Raleigh, NC (PRWEB) November 21, 2013
Since its inception in 2010, McKee Homes has done more than just build new homes. Owners and brothers, Pat and Mike McKee fund Alzheimer's research and care through donations from each home sale. And, this home-builder-for-a-cause is now building in the Raleigh, N.C. market – bringing buyers quality homes with exceptional service and value.
The Fayetteville, N.C. based homebuilder and land developers first footprint into the Triangle area market is at new home community, Summerwind Plantation. Located at Highway 42 and I-40 in the township of Garner, yet residing in Johnston County, Summerwind Planation is ideally located with access to a variety of shopping right at its doorstep. McKee Homes will offer a variety of new single-family homes priced from the $170s.
The Model Home at Summerwind Plantation is slated to open the end of November and will be open daily. Fonville Morisey Barefoot New Home Sales and Marketing is representing McKee Homes at Summerwind Plantation. For more information: http://www.VisitSummerwind.com.
"Our business model combines financial security through extremely low debt with customer service that reaches beyond industry standards. This stability makes moving into a competitive real estate market like Raleigh a logical next step," says Pat McKee, president of McKee Homes. "In just three years we've grown exponentially because of our expertise in creating ideal environments for first time homebuyers, military families and active retirees. This paired with our rich industry background makes Summerwind Plantation a perfect starting place for our entrance into the Raleigh market."
From single-family homes for the first time homebuyers, move-up buyer and active lifestyle retiree, McKee Homes builds energy efficient homes with functional floor plans, special features and custom options. As one of the fastest growing builders in North Carolina, the McKee's attribute success to community involvement and personalized service. Continuing to expand in the Fayetteville and Ft. Bragg markets, McKee Homes also announces their plans to enter Wilmington, N.C. and begin building in two more communities in Moore County.
"Our father, Joe McKee dreamed of growing a successful company dedicated to building new homes that make dreams come true for families and individuals," says McKee. "Unfortunately, Alzheimer's took that dream from him. Today we carry on his legacy by building more home for less money – and, in his memory, we have given more than $100,000 to fight this horrific disease."
For more information about the value and offerings of McKee Homes including the new communities where they are building. Please visit http://www.mckeehomesnc.com.
About McKee Homes
Founded in 2010, McKee Homes is dedicated to the memory of Joe McKee. The family-owned business is one of the fastest growing North Carolina new home builders. Owners and brothers Pat and Mike McKee take pride in creating homes located in the most desirable neighborhoods throughout the Raleigh, Wilmington, Fayetteville and Fort Bragg areas of North Carolina.
For the latest news about their new home offerings and they neighborhoods in which they are building, please visit http://www.McKeeHomesNC.com, read the blog, and connect on Facebook, Twitter, YouTube, Pinterest, or Google+.
About Fonville Morisey & Barefoot New Homes Sales & Marketing
For over 30 years, Fonville Morisey Barefoot has been exclusively representing builder and developer clients in the Greater Triangle area of North Carolina, 100% focused on the sales and marketing of new homes. FMB has now expanded its footprint to the coast of North Carolina, continuing to offer a level of expertise that is unrivaled when it comes to marketing and selling new homes.
For more information call (919) 781-7074 or visit http://www.fmbnewhomes.com.