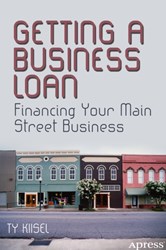 "I offer the perspective of a former Main Street business owner sharing insights learned from my personal challenges finding capital, as well as industry insights learned while matching small business owners to small business lenders."—Ty Kiisel
New York, NY (PRWEB) November 21, 2013
Burgeoning small businesses in the U.S. often face a similar paradox—they need a loan to grow their business, but they can't get a loan without significant growth under their belt. Local bankers approve only 10% of business loan applications, often requiring three to five years in operation, hefty savings, and a credit score of at least 720. What these bankers don't want business owners to know about are the numerous alternative funding options available. "Getting a Business Loan: Financing Your Main Street Business," newly published by Apress Media, details how businesses across the country can take advantage of these choices to not only sustain their operations, but to thrive.
Author Ty Kiisel provides personal insight and anecdotes from his experience as a former small business owner. A writer for Lendio.com and Forbes.com, Kiisel imparts valuable lessons derived from both personal and professional experience. "I offer the perspective of a former Main Street business owner sharing insights learned from my personal challenges finding capital, as well as industry insights learned while matching small business owners to small business lenders," he says. "Getting a Business Loan" details how bankers evaluate loan applications, the array of non-bank financing options available to business owners, how they can locate potential lenders, and the essential steps to take before applying for a loan.
Main Street businesses aren't limited to local banks anymore. There are people and institutions all across the country that lend money to small business owners. "Getting a Business Loan" shows the millions of businesses that form the backbone of the American economy how to find the capital they need to succeed.
For more information on "Getting a Business Loan," please visit: http://www.apress.com/9781430249986.

ISBN: 978-1-4302-4998-6
212 pages
User Level: Beginner to Advanced
Publication Date: November 11, 2013
Available eBook Formats : EPUB, MOBI, PDF
Print Book Price : $24.99
eBook Price: $17.99
About the Author
Ty Kiisel is a small business evangelist and veteran of more than thirty years in the trenches of Main Street business. Kiisel writes about small business issues for Lendio (http://www.lendio.com), providing best practices, tips, and advice to small business owners on leading people, managing a business, and what it takes to be successful. Additionally, Kiisel shares his expertise every week on Forbes.com, The Business Fuel Podcast, and other industry publications.
About Apress Media
With more than 1,500 books in print and e-formats, Apress is the authoritative source for IT professionals, software developers, and business leaders all over the world. Apress provides high-quality, no-fluff content that helps serious technology professionals build a comprehensive pathway to career success. Since 2007, Apress has been part of Springer Science+Business Media, one of the world's leading scientific, technical, and medical publishing houses, enabling global distribution of Apress publications. For more information, please visit http://www.apress.com.