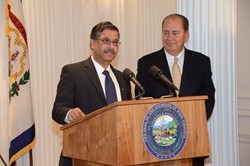 This company could have chosen anywhere in the world to build this plant, and they chose Jackson County, W. Va.
Charleston, W.Va. (PRWEB) November 21, 2013
W. Va. Gov. Earl Ray Tomblin today announced Carbonyx, Inc., a Texas-based company, will invest tens of millions of dollars in a new Jackson County plant, creating at least 60 jobs. The new plant will use state-of-the-art technology to produce a key ingredient for steelmaking and rely on coal as the main input for its manufacturing process, making it an important new customer for regional coal producers.
"We are excited and honored to welcome Carbonyx to West Virginia," Gov. Tomblin said. "Carbonyx is a tremendous innovator in the steelmaking business--and they've decided to invest right here in the Mountain State because of our top-notch workforce and winning business climate."
"This company could have chosen anywhere in the world to build this plant, and they chose Jackson County," Gov. Tomblin continued. "This means an investment of tens of millions of dollars and at least 60 good-paying jobs, which is great news. The plant's impact will reach beyond Jackson County: Carbonyx will use West Virginia coal to produce a key ingredient for steelmaking, which is in demand from major steel companies. This announcement is a huge victory for our entire state."
"It's a natural fit to make West Virginia home to our Carbon Alloy facility due to its coal reserves, long standing tradition with the steel industry, a proactive government led by Governor Tomblin and, above all, the quality of its people. During our efforts we received unprecedented support from people of all walks of life," said Dr. Siddhartha Gaur, the CEO of Carbonyx Inc.
Carbonyx's patented, cutting-edge technology revolutionizes the way steel is made. For centuries, steelmakers have relied on coke, a high-carbon, hot-burning fuel source, to manufacture their product. Carbonyx has developed a coke substitute called Cokonyx, a carbon alloy that offers both lower cost and less environmental impact than traditional coke.
Carbonyx has acquired a site in Millwood, W.Va. and will commence construction once several key elements are finalized throughout the next several months. They plan to begin construction in 2014. The company expects to hire at least 60 people, and hiring will begin soon after construction. Positions will include management, operators and maintenance personnel. Prospective applicants should visit the company's website at http://www.carbonyx.com.
Gov. Tomblin and the West Virginia Development Office spent more than a year in talks with Carbonyx officials to land the new plant. The Jackson County Development Authority and the Jackson County Commission also played key roles in securing the Carbonyx investment.