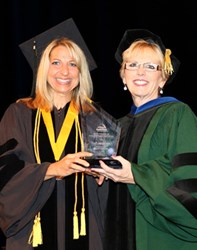 Irvine, CA (PRWEB) November 21, 2013
California Southern University has named Caelan Kuban recipient of the 2013 CalSouthern President's Award, presented annually to a CalSouthern student in recognition of outstanding doctoral project work.
For her doctoral project, Kuban—who graduated this year with a Doctor of Psychology (PsyD) degree—evaluated a 10-session program consisting of mind-body interventions—activities including expressive art, guided imagery, mindful meditation and progressive muscle relaxation, among others—aimed to address the adverse impact that post-traumatic stress disorder (PTSD) has on physiologic responses in the body. Her results showed that these interventions decreased PTSD symptoms, while increasing emotional regulation and reducing recidivism in adjudicated, traumatized adolescents.
"I passionately believe that traumatized children need to be viewed from the perspective of 'what has happened to them,' rather than 'what is wrong with them,'" says Kuban. "It is my hope that my doctoral project has helped to identify practical strategies that help traumatized children regulate their emotions and behavior—and avoid contact with the juvenile justice system."
As executive director of The National Institute for Trauma and Loss in Children, Caelan will be able to apply what she has learned in the course of her doctoral project—as well as in the PsyD program generally—not only to the work she does personally with traumatized adolescents, but also to the training she provides to professionals nationwide who work with this population.
"The best doctoral projects are brilliant, creative and infused with humanity," says Dr. Caroll Ryan, president of CalSouthern. "Caelan Kuban's work perfectly embodies these characteristics and is well deserving of the 2013 President's Award. Caelan is truly an inspiration to the CalSouthern community."
The President's Award was presented to Kuban at the university's 2013 commencement ceremony. To learn more about CalSouthern's 2013 Commencement Ceremony, visit http://www.calsouthern.edu/content/blog/a-day-of-celebration-calsoutherns-2013-commencement-ceremony/.
About CalSouthern:
Founded in 1978, California Southern University is an accredited university offering online degree programs at the associate, bachelor's, master's, and doctoral levels in business, law, criminal justice, and psychology, utilizing a proprietary online learning platform. CalSouthern is accredited by the Accrediting Commission of the Distance Education and Training Council. The Accrediting Commission of the Distance Education and Training Council is listed by the U.S. Department of Education as a nationally recognized accrediting agency. The Accrediting Commission of the Distance Education and Training Council is a recognized member of the Council for Higher Education Accreditation. To learn more about CalSouthern, please visit http://www.calsouthern.edu.