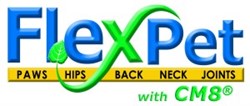 'We are very excited about our new website and are looking forward to hearing from our current customers, as well as new customers on how they like the new design,' stated Tamer Esafy, CEO of Flexcin International.
Ft. Myers, Florida (PRWEB) December 05, 2013
Flexcin International, Inc. a provider of all-natural health supplements that aids in joint and bone health for humans, animals and pets announces the re-launching of their new website, http://www.flexpet.com. From great performance to easy navigation, the new website helps customers more easily find what they are looking for before they order. Customers will have the option of watching an informative video, reading some incredible testimonials, and gaining product knowledge about how to use FlexPet with their older pets and how to prevent arthritis with their younger pets. One of the most exciting aspects of the new site is the opportunity for customers to ask questions of their resident veterinarian, Dr. David Randall of Big Cypress Animal Clinic in Naples, Florida, about their pet's problems.
Pets have two major categories of joint problems…developmental and degenerative problems. Much attention is given to arthritis and other joint problems in dogs, but cats can also suffer from these painful conditions. In fact, arthritis and other joint issues are some of the most common causes of pain in cats. FlexPet helps these problem in pets and contains a combination of key ingredients, along with CM8®. FlexPet is the only product on the pet market that contains this ingredient. FlexPet also is the only joint supplement to include an enzyme blend to aid in digestion and enhance the bio-availability of the ingredients. FlexPet has proven to very effective for pets in enhancing mobility, increasing flexibility, supporting stronger cartilage, and nourishing the joints.