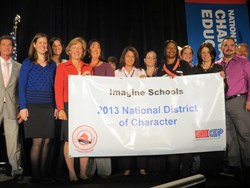 This award recognizes the effort of the entire organization and we are very proud that Imagine Schools is the only charter network in the nation to receive this award. – Eileen Bakke, Senior Vice President
Arlington, VA (PRWEB) November 21, 2013
Imagine Schools has been recognized as a "2013 National District of Character" by the Character Education Partnership (CEP) and is one of only three school districts in the nation to receive this award.
Additionally, eight individual Imagine campuses were recognized for their "Promising Practices" in positive character and school climate.
Imagine Schools received their award at the Character Education Partnership National Forum in Washington DC earlier this month.
"Character education is foundational in every classroom and each campus within our Imagine Schools family," explains Eileen Bakke, Senior Vice President of Imagine Schools.
School districts that apply to become National Districts of Character have to ensure their schools reach a standard of excellence, a process that may take several years. Once they reach this level they are recognized as Districts of Character and asked to help other districts transform the culture of their schools.
"We are gratified the dedication of our teachers and the exceptional character of our students has earned this recognition by the Character Education Partnership," continued Eileen Bakke.
National Schools of Character are schools and districts that have demonstrated through a rigorous evaluation process that character development has had a positive impact on academics, student behavior, and school climate. They are now expected to serve as models for other schools, helping them to achieve the same results.
"These districts have developed schools that are safe places with cultures of respect and trust," said CEP President Mark Hyatt. "They show us how an intentional emphasis on character and climate translates into creating the conditions necessary for learning, safety, and success."
A number of Imagine schools demonstrate that academic rigor, enhanced by character building, provides rich learning experiences. They also follow strict measures of excellence such as academic growth, character development, economic sustainability, parent choice, shared values, and school development.
"This award recognizes the effort of the entire organization and we are very proud that Imagine Schools is the only charter network in the nation to receive this award," concluded Eileen Bakke.
Imagine Schools is a national family of 69 public charter schools educating more than 36,000 students in 11 states and the District of Columbia. Imagine Schools partners with parents and guardians to educate their children, providing high quality schools that prepare students for lives of leadership, accomplishment, and exemplary character.