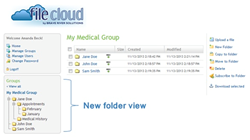 Warwick, RI (PRWEB) November 22, 2013
File Cloud, a web-based file sharing application, was developed by Brave River Solutions to provide secure, HIPAA-compliant file transfer and management. File Cloud allows users to upload large files in any format (including pdf, jpeg, ppt, Word documents and Excel workbooks) in order to share and send them to authorized users. The application can then be configured to send automatic email or text messages alerting subscribed users when new files are ready for download.
Periodically, updates are made to the File Cloud application in order to provide Brave River's customers with the best possible file sharing application.
While most of these updates are "behind the scenes" enhancements to improve performance, the latest update, dubbed Version 1.4, includes a front-end change to the folder structure. Utilizing a new collapsible folder navigation (similar to Windows Explorer), File Cloud 1.4 simplifies the user experience by allowing for easier browsing.
Building on File Cloud's already intuitive interface, the new folder structure makes it even easier for users to scroll through their folder list when searching for a file. The update was released on November 21, and the before-and-after effect can be viewed on the File Cloud website.
About Brave River Solutions
Located in Warwick, RI, Brave River Solutions is a leading provider of technology solutions, including e-Business/web services, IT support, and technology consulting to businesses in the Providence and Boston areas. With over 20 years of industry experience and unique end-to-end service capabilities, the experts at Brave River partner with their clients to create solutions that enhance productivity and efficiency, and improve ROI through state-of-the-art technology. To learn more about Brave River Solutions, please visit http://www.braveriver.com.