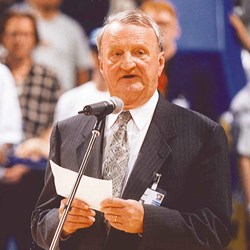 Colorado Springs, CO (PRWEB) November 21, 2013
George E. Killian, who led the NJCAA for 35 years as its executive director, will be inducted into the National Collegiate Basketball Hall of Fame on Sunday, Nov. 24th, in Kansas City, Mo., as part of a three-day celebration that also includes the CBE Hall of Fame Classic featuring Texas, BYU, DePaul and Wichita State at the nearby Sprint Center.
Killian is one of nine individuals and one team that will be inducted into the Hall of Fame on Sunday, including renowned coaches Gene Keady and Rollie Massimino. The induction ceremony will air on ESPNU on Wed., Dec. 11 at 9 p.m. (Eastern).
Killian began his career in the NJCAA as the athletic director and head men's basketball coach at Erie Community College (N.Y.) in 1954. He was elected president of the NJCAA in 1967 and two years later was tabbed as the organization's first executive director – a post he held until 2004. His vision, dedication and leadership helped establish the NJCAA as the second-largest national collegiate athletic organization in the United States. He was instrumental in fostering the organization's special role in providing athletic and academic opportunities to student-athletes and lifted the NJCAA's men's basketball championship tournament in Hutchinson, Kan., to national prominence.
"George dedicated his entire career advancing men's and women's collegiate athletics," commented current NJCAA Executive Director Mary Ellen Leicht. "His induction into the College Basketball Hall of Fame is a great honor for him and the NJCAA alike. I speak for the entire NJCAA when I say congratulations and thank you."
In addition to his leadership with the NJCAA, Killian was a key figure on the international stage. From 1990-98, Killian served as the president of FIBA, the international governing body of basketball. He also was a member of the United States Olympic Committee's Board of Directors from 1967-2004 and had a seat on the International Olympic Committee from 1996-98. In 1999 he was elected president of FISU (International University Sports Federation) and served two terms before resigning in 2011.
For more information on the National Collegiate Basketball Hall of Fame visit http://www.cbeclassic.com/hall-of-fame.
About the NJCAA
Since 1938 the National Junior College Athletic Association (NJCAA) has been the governing body of two-year college athletics, offering athletic and academic opportunities to college students. The NJCAA is the second largest national intercollegiate athletic organization in the United States with over 500 member schools in 43 states. Each year nearly 60,000 student-athletes compete in one of 28 different sports and the organization sponsors 48 national championship events and nine football bowl games. NJCAA Headquarters has been located in Colorado Springs, Colo., since 1985. For more information visit http://www.njcaa.org.