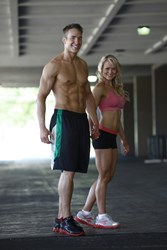 For those battling a lifestyle of bad habits and years of weight gain, twelve weeks is too short to create any meaningful changes. Granted, one can have an amazing physical change, but what happens after that is known as the "rebound effect,"
(PRWEB) November 22, 2013
Home workout series come and go and normally have a program end date of about six to twelve weeks. For those battling a lifestyle of bad habits and years of weight gain, twelve weeks is too short to create any meaningful changes. Granted, one can have an amazing physical change, but what happens after that is known as the "rebound effect," and most popular workouts systems attribute to this.
For most, a complete 180-degree lifestyle change is too intense, especially for beginners. Most plans drop an advanced training program on novice clients, where thereafter a handful of participants make it through to the end. For the majority, burnout can set in, crushing the dreams of healthy resolutions. Whether the program was not appropriately scaled, or the coaches were out of reach, quitting becomes the answer.
Workout Anywhere by RundleFit is different. Members receive access to all-level home workouts, travel and anywhere styled programming accessible through mobile devices (only an internet connection is needed. No more old school DVD's). In addition, beginners through advanced fitness levels can participate in their own unique versions of the weekly workouts. Workouts consist of an array of body weight movements, plyometric, core, strength, quickness, agility, conditioning and flexibility exercises. Routines are either equipment free or recommend a couple pieces of affordable/transportable devices.
As the exercise programming changes week to week, all-level meal plans and recipes are added to promote well-rounded, healthy lifestyles. This along with the interactive nature of Justin and Jessica Rundle and their fitness community creates a blue print for lasting results. Nutrition and accountability are the hardest elements to master when going through a lifestyle change. However, RundleFit has the expertise and know how to keep members accountable and motivated.
Think of RundleFit's Workout Anywhere as more than just a home workout system, but actually a full purpose training system for the home, and traveling user. To test drive Workout Anywhere, follow the link and sign up for the 30-day free trial. Then it's only $9.95/month thereafter.