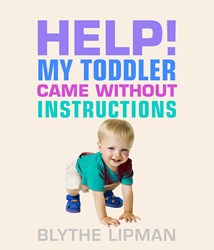 "Clear, practical, comforting, funny and wholly user-friendly. I encourage you to keep Help! My Toddler Came Without Instructions close, and refer to it often."—Dr. John Duffy, parenti
(PRWEB) November 22, 2013
Blythe Lipman, author of Help! My Toddler Came without Instructions: Practical tips for Parenting a Happy One, Two, Three and Four Year Old, offers tips to help parents stay sane, calm, and positive. Just in time for Thanksgiving, Blythe shares nineteen small ways to show appreciation that can make a huge difference. She reminds parents that "charity, appreciation and gratitude start at home and don't cost a penny."
Her tips range from the personal to the social, including easy steps like "get down to your toddler's eye level when teaching him something new" and "when you're at the grocery store, pick up some extra food to donate. The food banks always run low this time of year."
Help! My Toddler Came without Instructions (also available in audio) covers:

The secrets to sleeping—transition from crib to bed, take naps, tame tantrums, vanquish night terrors and create nightly routines
The art of potty training—age discussion, types of potties, fears, underwear, charts and more
Time out—play well with others, including siblings and preschool chums
Get that out of her mouth!—from binkys to blankies to thumb sucking
Have fun—playtime, travel with toddlers and enjoy these precious years
What People are Saying about Help! My Toddler Came without Instructions:
"Clear, practical, comforting, funny and wholly user-friendly. I encourage you to keep Help! My Toddler Came Without Instructions close, and refer to it often. Blythe Lipman is a consummate pro when it comes to parenting toddlers."
—Dr. John Duffy, parenting expert for Steve Harvey
Raising children is a serious business, especially in this era of two working parents with jam-packed schedules. A helping hand can make all the difference. Just think of your life without marker on the wall and food being thrown at the worst possible moments. Nationally known parenting expert Blythe Lipman is on a mission to help parents, offering hundreds of practical tips with a dash of humor. Go from stressed-out, overwhelmed and exhausted to meltdown free and mellow! Help! My Toddler Came without Instructions provides parents with quick solutions to help with those hair-raising toddler issues. When some new "toddler troubles" arise, grab the book, and you'll soon be back in control and ready for whatever else your toddler might throw at you.
An Infant Care Specialist, Blythe Lipman, CDA, has worked with babies for over twenty years. She began her career at Boston University's Neonatal Care Unit. Blythe has helped countless new, sleep-deprived parents with workshops, in-home visits, invaluable tips, and sound advice. Her work with parents, preschools, hospitals, and caregivers throughout North America earned her a reputation as one of the top infant care experts of today. She and her family live in Scottsdale, AZ.