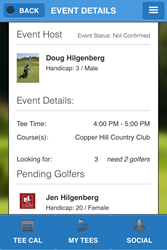 Philadelphia, PA (PRWEB) November 27, 2013
Time To Play Golf (TTPGolf), a growing golf social network, is excited to announce the imminent launch of a new mobile app for golf social networking.
The app, tightly integrated with the TTPGolf social network, allows an immersive community experience with quick, accessible, and fun ways to connect around a passion for golf.
TTPGOLF MOBILE APP FEATURES

The app is available on Android and iOS operating systems.
Sign up and register for TTPGolf's social network via the app or social network.
Post a tee time and provide a suggested time and place to meet golf partners, along with criteria, including desired number of players and handicap level. Once another person joins, users are able to confirm with an actual start time and location.
Use TTPGolf's "Tee Cal" to browse member requested tee times posted on the social network. Enter filtering information to view only preferred tee times.
Join other tee times. The player that posted will receive an update in their items and can accept or reject the invite to join. Wait for confirmation, and once confirmed, get ready and set to tee off.
Set golf partner preferences, including age, location, and golf handicap and connect with golfers that align with these preferences.
Set up events, such as outings or get-togethers at the 19th hole.
Share pictures or stories from the game via the TTPGolf social network.
TTPGOLF MOBILE APP BENEFITS
Build more connections. TTPGolf is working tirelessly to bring together as many golfers as possible to help players find the perfect golf partner.
View a full listing of courses. TTPGolf has imported a full listing of courses in the US to help users locate the closest course.
Follow favorite courses to remain in-the-know.
Connect with groups and companies to stay informed.
Stay tuned for the forthcoming launch of TTPGolf's mobile app, designed to give players more opportunities to build connections and grow this game.
ABOUT TIME TO PLAY GOLF
Want to find golf partners or make new golf buddies locally? Time to Play Golf is the solution. It works like other social media sites, but allows users to find local golfing partners, follow favorite golf courses to keep up with what's happening, and even create golf events. TTPGolf - an online country club - enables the golfer to grow this game. Join today at http://www.TTPGolf.com.