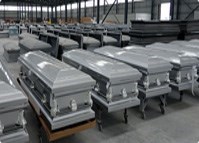 (PRWEB) November 24, 2013
Recently, the leading casket company MillionaireCasket.com has introduced its new metal casket collection. According to a sales manager of the company, these products are specially designed for the USA market.
Now, all these new casket are offered at discounted prices. They are guaranteed to be quality-made and come with a 30-day, money-back guarantee. The USA market has very high requirement for caskets, and MillionaireCasket.com's ISO9001-2000 quality control system allows the company to develop and manufacture the best products for the market there.
"Our metal caskets are made from bronze, copper, or stainless steel. All of them are available in a variety of thickness and weight. OEM orders are welcomed here. Custom designs from customers can be done within the promised time. We are pleased to finished all orders based on customers' requirements. All casket designs can be done quickly and economically," Zoe Wong, CEO of MillionaireCasket.com states.
A sales manager says, "Our quality products feature quality construction, quality craftsmanship, quality hardware, and elegant-looking interior. We are happy to share our experience in product design and implementation with all casket distributors worldwide."
About MillionaireCasket.com
MillionaireCasket.com is a leading casket manufacturer from China. Focusing on casket wholesale, the company offers an exquisitely crafted line of all kinds of metal caskets, wood caskets, veneer caskets, cremation caskets, rental caskets, orthodox caskets, and infant or over-sized caskets. The standard quality control policy is strictly applied here, and a third party quality assurance is also available.
Please visit http://www.millionairecasket.com/ for more details.