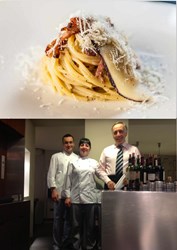 History and regional identities thus meld into this popular dish that today Moma's chefs, with precise input by Gastone Pierini, have further dignified this dish by introducing with some minor, but nevertheless spot-on, variations.
Rome, Italy (PRWEB) November 28, 2013
While two dogs fight over a bone, a third one runs away with it. The truth of this old saying seems to be confirmed among gourmets and culinary enthusiasts of Roman and Latial cooking (cuisine local to central Italy), who have been forever divided between pasta alla carbonara (pasta with s, pecorino cheese and jowl bacon) and pasta alla amatriciana (pasta with tomato sauce and jowl bacon); the two cornerstones of traditional Roman cooking. However, for some time now between these two heavyweights of the Roman cooking spirit (typical Italian cuisine of the city of Rome), a new contender has entered the ring: pasta alla Gricia. An authentic recipe that is genuinely regional, it has remained trampled underfoot and perhaps even forgotten, seen almost as a fallback. But today, thanks to the knowledge and the passion of the well-known Roman restaurant "Moma," it is experiencing a marvelous season of rebirth and rediscovery.
"The origins of this dish are still discovered," says Gastone Pierini, proprietor of Ristorante Moma, a pleasant and elegant food retreat located between Via Veneto and Piazza Esedra. "There are those who claim that pasta alla Gricia was 'invented' by Latial shepherds (in central Italy, near Rome), who, with modest ingredients at their disposal as they returned from the pastures, created this dish that is simple, yet rich in flavor, like "cacio e unto (cheese with pork fat)." Instead, I share the opinion that its origins can be traced back to the Grisons, from whom some fringe groups came to settle along the borders of the Italian regions of the Marches, Umbria and the northern part of Lazio (central Italy) during the era of the Papal States. They spread their traditional methods pork processing among the local inhabitants. To this day the "original" inhabitants of Norcia still refer to themselves as "Grici."
History and regional identities thus meld into this popular dish that today Moma's chefs, with precise input by Gastone Pierini, have further dignified this dish by introducing with some minor, but nevertheless spot-on, variations.
Moma's Chitarrini (a type of thin pasta) alla Gricia is the restaurant's best seller; one of the most ordered dishes from the menu that has become the most demanded by clients from all around the world, thanks to word-of-mouth, which is underground but nevertheless accurate, among experts and enthusiasts. It is all due to Moma's chefs Alessandro Cannata and Francesca Fucci's stroke of genius, having achieved their goal of exalting and conveying originality to a recipe, which they have loved and continue to love very much, by adding a precious note to carefully selected ingredients: Cacio Sbronzo, a top-quality Pecorino cheese that is refined in grape must. This is how the extraordinary success of a pasta alla Gricia arose uniting both the best raw ingredients with an originality of execution. In fact, Rome, Italy's Ristorante Moma prepares its pasta alla Gricia with chitarrini (homemade "chitarra" pasta), guanciale (pork jowl) from Amatrice, and "DOP (Protected Designation of Origin)" pecorino cheese, but it is this hint of Cacio Sbronzo that makes it one-of-a-kind; rich in balance but at the same time able to assert character as well as strong harmony.
Alessandro Cannata and Francesca Fucci, together with Gastone Pierini, operate Ristorante Moma by picking winners, like offering a modern reinterpretation of the most authentic Roman and Italian culinary traditions, but also with expert touches of creative cooking that are always in the arsenal and personal stories of the chefs who boast prestigious collaborations both in Italy and abroad. For example, in addition to pasta alla Gricia, coming up strong is the dish "Orto di Stagione (Seasonal Vegetables)", a composition of both raw and cooked vegetables that is, above all, a pleasure for the eyes, or Poached Eggs with fresh asparagus cream and Alba truffles. Also strong crowd pleasers are the "Cappelletti ripieni di Cinturello Orvietano (stuffed pasta filled with pork from the Orvieto area)" with almonds on a bed of Parmesan and coffee dust cream, as well as grilled calamari with fresh strawberries and foie gras mousse.
Therefore, tradition and innovation meet at Moma, united by an unbridled passion for fine cooking, but that is offered in a way that's informal, friendly and sustainable in a refined, elegant, and minimalist atmosphere created to showcase both the dishes and the magnificent experiences that they can present.
Ristorante Moma is found in the heart of Rome at Via S. Basilio 42/43.
"Ristorante Moma" is a one-of-a-kind restaurant in the heart of Rome that prepares unique dishes and exemplifies both traditional Roman and Italian cooking, creating a creative and innovative cuisine thanks to its two chefs.