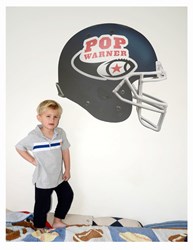 We are excited to release Pop Warner branded wall decals to the public. - Scott Boccia, Founder, SelfAdhesiveFabric.com
Herndon, VA (PRWEB) December 12, 2013
As the Pop Warner Super Bowl and National Cheer and Dance National Championships are currently taking place at the ESPN Wide World of Sports Complex in Lake Buena Vista, FL, custom designed Pop Warner self adhesive fabric wall decals are now available online at http://selfadhesivefabric.com/products/.
As a special offer, free shipping will be included with all orders.
The initial release of large format Pop Warner wall decals includes the following:

Red Pop Warner football helmet cutout
White Pop Warner football helmet cutout
Blue Pop Warner football helmet cutout
Pop Warner 3D faux framed football field
Pop Warner football logo cutout
Pop Warner cheerleading logo cutout
In addition, SelfAdhesiveFabric.com has an inventory of products that they are currently designing and will continue to add to its Pop Warner product line. "We are very excited to join the Pop Warner family as an officially licensed vendor which will allow us to offer Pop Warner branded wall designs, decals, murals and other home / office décor to their players, families, friends and fans alike - all printed on our large format, self adhesive, removable and reusable WallMonster Fabric™," said Scott B., the owner of SelfAdhesiveFabric.com and creator of the WallMonster Fabric™ brand.
SelfAdhesiveFabric.com also offers a custom feature that will allow Pop Warner players, leagues, fans and all other customers to upload their photos; football and cheerleading team logos; team helmets; cheer megaphones and other personalized images to capture their memorable moments printed at the customized size of their choice.
###
About SelfAdhesiveFabric.com
Selfadhesivefabric.com produces premium wall decals printed exclusively on its WallMonster Fabric™ - a self adhesive fabric that you simply peel & stick and can remove, reuse and reposition over and over. We offer officially licensed Pop Warner products along with a custom feature that allows you to upload photos to capture your memorable moments and personalize your wall décor at home or in the office.
Press Inquiries
SelfAdhesiveFabric.com
Scott Boccia, Founder
703.300.1290
scott(at)selfadhesivefabric(dot)com
http://www.selfadhesivefabric.com