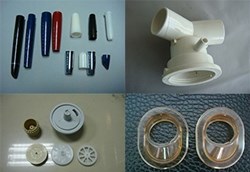 (PRWEB) November 27, 2013
Recently, Wuxi Glory Plastics, a famous plastic part company, has announced a new range of plastic products. What's more, the company has also started to offer custom plastic parts. All new and old customers can order custom made items without any extra fees. What they need to do is describe the detailed requirements to the online workers.
Aside from that, all the company's plastic parts, including the finished items and custom items, are now offered at discounted prices. According to the CEO of the company, all clients throughout the world can enjoy the discounts, up to 28% off. The special offer is valid during December 2013.
"We are so happy to release our new products. We are one of the world's pioneers when it comes to plastic items. So, all customers can trust us. We offer nothing but high quality products. Our strict control regulations and rejection standards enable us to provide excellent products only. Users are welcome to visit our website to learn more details," the CEO said.
With years of hard work, the company can offer one-stop solution for varied requirements. In addition, customer satisfaction is taken very seriously by the company. For that, it strives to see what customers actually need.
About Wuxi Glory
Wuxi Glory engaged in developing and manufacturing custom molded plastic product in China by taking advantages of our relatively low labor costs. We have most experienced workers in China. If you're looking for product design, engineering, prototyping, and mass production, Glory plastics can always find a solution for you. For more about our products and services please visit: http://www.plastics-molding.com.