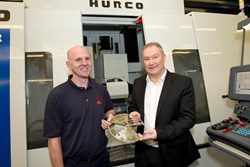 This is their second big win for the precision engineers.
Wolverhampton, West Midlands (PRWEB UK) 27 November 2013
A&M EDM Ltd were issued the corporation tax rebate through research and development carried out by their company. As a company that provides high-specification, precision-made parts and tooling to the global aerospace and automotive sector, research is an intrinsic part of their work.
Mark Evans, Managing Director of R&D Tax Claims said: "The HMRC research and development scheme enables companies to claim back corporation tax on their work. This is the second reduction we have worked on with A&M EDM, as almost all of their output is research-based."
As part of their ongoing working-relationship, A&M EDM have streamlined their research accounting process by embedding it into their financial processing, with input from R&D Tax Claims.
"A&M EDM are world leaders in the field of precision manufacturing and Mark Wingfield understands that to stay ahead, they need to consistently reinvest, not just in the latest machinery but also in skills and talent. The decision to expand significantly and take on new staff and apprentices has been helped by the HMRC reclaim scheme."
R&D Tax Claims have built a solid reputation for maintaining good working-relationships with their clients in order to get into the mindset of their business. An essential element of their work is to understand the complexity of their client's business model and isolate industry-related tax issues, working out ways in which to tackle them.
-Ends-
For further information on the story and to access supporting imagery, please contact:
Kate Copestake, Director, Copestake Ltd Public Relations and Business Communications
Email: kate(at)Copestake-Ltd(dot)com
About R&D Tax Claims
R&D Tax Claims Ltd, based in Wolverhampton, assists companies who invest in research and development by helping them claim back extra tax relief on every pound the business spends in developing new products or introducing new and improved processes. The company works with SMEs to help them receive tax refunds quickly, as well as similar annual reductions on their corporation tax bills in the future. The company operates on a no win no fee basis.