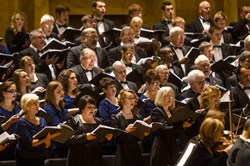 Toledo, OH (PRWEB) November 27, 2013
On December 8th at 2pm, the Toledo Symphony along with the Toledo Choral Society and the choruses of BGSU will bring to life a beloved holiday tradition--Handel's Messiah. Favorite musical pieces like the "Great Amen" and the popular and thrilling "Hallelujah" chorus are sure to inspire.
The traditional English oratorio tells the story of Jesus from his birth to the Resurrection via settings of biblical text. Soloists for this year's production are Cheryl Babb (soprano), Katherine Calcamuggio (mezzo-soprano), Richard Mathey (tenor) and Kevin Foos (baritone).
This is the fifth year that the Toledo Symphony has presented Handel's Messiah in partnership with the Toledo Choral Society and BGSU.
Richard Napierala, director of the TCS, will conduct. Tickets are $35 in all sections.
WHAT: Handel's Messiah with the Toledo Symphony
WHEN: Sunday, December 8 at 2PM
WHERE: Peristyle at the Toledo Museum of Art
TICKETS: Call 419-246-8000 or visit http://www.ToledoSymphony.com
Richard Napierala
Richard Napierala is a life-long Northwest Ohio resident, having grown up in Maumee, Ohio. He attended the University of Toledo where he was active in the choral, orchestra, and band programs and earned his Bachelor of Education degree in Music in 2005. He returned to the University in 2007 to pursue his Master of Conducting degree and studied with Dr. Jason Stumbo, Mr. Rico McNeela, and Dr. Stephen Hodge. During this time, he assisted with Men's Chorus, Concert Chorale, Symphony Orchestra, Wind Ensemble, Concert Band, Brass Choir, Varsity Band, and the Rocket Marching Band.
In 2012, Rick became the fourth musical director of the Toledo Choral Society. Under his leadership, the Choral Society has performed Requiem by Fauré, Missa Brevis in C by Mozart, Gloria by Rutter, Sunrise Mass by Gjeilo, and Messiah by Händel. In addition to the normal Choral Society performance schedule, Rick has been instrumental in adding other concert venues which have made the beauty and excitement of choral music accessible to non-traditional audiences. In anticipation of the 100th Anniversary of The Toledo Choral Society, Rick has engaged the membership in the commissioning of a large choral work in honor of the occasion. In the spring of 2013, Rick was chosen as the director of Athletic Bands at the University of Findlay. In this capacity, he directs the Marching Oiler Brass and newly formed Athletic Pep Band. Rick also serves as the Director of Music at St. Paul's United Methodist Church, in Toledo, Ohio, where he leads the Worship Choir and assists with other Sunday morning worship responsibilities.
In addition to his daily and weekly career activities, Rick is active in other facets of music performance and education in the Northwest Ohio area. He is a life member of Kappa Kappa Psi (a National Band Honorary and Service Fraternity) and Phi Mu Alpha Sinfonia (a National Music Social Fraternity which is dedicated to the preservation and advancement of music in America), and is a member of the Ohio Music Education Association and NAfME: The National Association for Music Education.