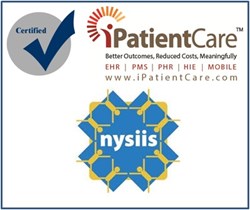 As a leading EHR vendor, iPatientCare meets the criteria for submitting a child's immunization data in HL7 2.5.1 to NYSIIS also importing vaccination history provided by NYSIIS said Shahab Shaikh, Enterprise Integration Specialist, iPatientCare.
Albany, NY, (PRWEB) November 26, 2013
iPatientCare, Inc., a pioneer in mHealth and cloud-based ambulatory EHR and integrated Practice Management solutions announced successful certification of its EHR by the New York Immunization Information System, New York Department of Health. This achievement will allow iPatientCare users to both submit and import immunization data electronically and directly from iPatientCare EHR, definitely one of the most unique features provided by an ambulatory EHR.
The New York State Department of Health's (NYSDOH) Bureau of Immunization is committed to promoting the health of New York State children by reducing and/or eliminating the number of vaccine preventable diseases that affect the State's children. The goal of the new immunization information system is to establish a complete, accurate, secure, real-time immunization medical record that is easily accessible and promotes public health by fully immunizing all individuals appropriate to age and risk. New York State Immunization Information System (NYSIIS), in conjunction with the legislative mandate, strongly supports the NYSDOH Bureau of Immunization's objective to meet the Center for Disease Control's (CDC) Healthy People goal of 95% of children less than six years of age enrolled in an Immunization Information System with two or more shots.
"As the nation's leading EHR vendor, iPatientCare meets the criteria for submitting a child's immunization data in HL7 2.5.1 to NYSIIS and also importing the vaccination history provided by NYSIIS into iPatientCare EHR. This is aligned with the Meaningful Use Stage 2 requirement for an electronic interface to an Immunization Registry. By any standard, this is a very unique achievement and we are very proud of having achieved this certification." said Shahab Shaikh, Enterprise Integration Specialist, iPatientCare.
About iPatientCare
iPatientCare, Inc. is a privately held medical informatics company based at Woodbridge, New Jersey. The company is known for its pioneering contribution to mHealth and Cloud based unified product suite that include Electronic Health/Medical Record and integrated Practice Management/Billing System, Patient Portal/PHR, Health Information Exchange (HIE), and mobile point-of-care solutions that serve the ambulatory, acute/sub acute, emergency and home health market segments.
iPatientCare EHR 2014 (2.0) has received 2014 Edition Ambulatory Complete EHR certification by ICSA Labs, an Office of the National Coordinator-Authorized Certification Body (ONC-ACB), in accordance with the applicable eligible professional certification criteria adopted by the Secretary of Health and Human Services (HHS).
Full certification details can be found at ONC Certified Health IT Product List.
The ONC 2014 Edition criteria support both Stage 1 and 2 Meaningful Use measures required to qualify eligible providers and hospitals for funding under the American Recovery and Reinvestment Act (ARRA).
The company has won numerous awards for its EHR technology and is recognized as an innovator in the field, being a pioneer to offer an EHR technology on a handheld device, an innovative First Responder technology to the US Army for its Theatre Medical Information System, the first to offer a Cloud based EHR product. iPatientCare is recognized as one of the best EHR and Integrated PM System for small and medium sized physicians' offices; has been awarded most number of industry Awards; and has been recognized as a preferred/MU partner by numerous Regional Extension Centers (REC), hospitals/health systems, and academies.
Visit http://www.iPatientCare.com for more information.
About NYSIIS :
NYSIIS is a free, web-based statewide immunization information system, also known as a registry, which maintains computerized immunization data of persons of all ages in a confidential and secure manner.
A statewide immunization information system will serve as a repository to aid, coordinate, and promote cost-effective disease prevention and control efforts in New York State. By two years of age, more than 20 percent of the children in the U.S. have seen more than one health care provider. As a result, multiple medical records are created and parents often lack a complete and accurate record of their children's immunization status. An IIS acts as a connection between the multiple providers a family may have and keeps track of which immunizations have already been given, and which ones are needed. An IIS helps sustain high immunization rates and low disease levels with more efficient management of information. It will also save money by ensuring that children get only the vaccines they need and improve office efficiency by reducing the time needed to gather and review immunization records.
Visit http://www.health.ny.gov/prevention/immunization/information_system/ for more information.
Contact:
iPatientCare, Inc.
One Woodbridge Center, Suite 812, Woodbridge, New Jersey 07095
Phone: 800-741-0981 | Fax: 732.676.7667 | Email: info(at)ipatientcare(dot)com
New York State Immunization Information System (NYSIIS)
Bureau of Immunization
New York State Department of Health
Phone: 518-473-2839