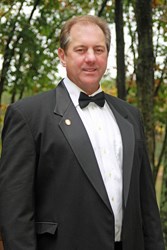 We are proud to support an importer with such an obvious passion for his business.
Baltimore, MD. (PRWEB) November 26, 2013
Shapiro, a 98-year old leader in global transportation and regulatory compliance, congratulates one of its long-term customers, Kysela Père et Fils, Ltd., the recipient of Wine Enthusiast Magazine's 2013 Importer of the Year award. Since 2000, the magazine has presented its Wine Star awards to individuals and companies whose groundbreaking vision has impacted the wine and spirits industry.
Kysela Père et Fils, Ltd., a leading fine wine and craft beer wholesaler, was founded in 1994 by sole owner and proprietor, Fran Kysela. Since then, the company has expanded its original focus from French country wines and a select number of German, Italian and Spanish wines to a global portfolio including products from 194 producers in 13 countries. Today, the company averages $28 million in annual sales and distributes to 49 states, the District of Columbia, Canada and the islands of Turks and Caicos.
Shapiro has partnered with Kysela since 1996, developing creative supply chain solutions to meet their growing demand. "We are proud to support an importer with such an obvious passion for his business," says George Galestro, Shapiro's New York branch manager. "Through our long term relationship with Kysela, we have been lucky to see the company's expansion into new markets and congratulate them on this prestigious award."
Fran Kysela travels six to nine months out of the year in search of new brands that meet his high standards of quality. Shapiro supports Kysela's expanding network of suppliers, providing flexible logistical solutions wherever his tastes have taken him. "We have worked with Samuel Shapiro for 17 years, and their logistical skills and professionalism have greatly contributed to our success," says Kysela. "I can't recommend them enough."
Shapiro, a third generation family-owned business founded in 1915, provides creative and flexible logistics services. With six offices, over 100 employees, and worldwide strategic alliances, Shapiro is the supply chain partner that delivers customized, compliant, and reliable solutions to address your specific import and export needs. Only Shapiro has an experienced and personable staff that truly cares about your company and commits themselves to proactively achieving your business goals. We Deliver. Problem Solved.™