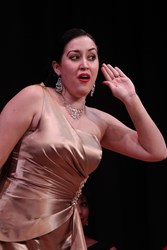 Sunny Isles Beach, Florida (PRWEB) November 26, 2013
The City of Sunny Isles Beach is excited to announce the next installment of our Four Seasons Cultural Series, with the Florida International University Opera on Wednesday, December 4, 2013 at 7:30 p.m. The students of the FIU Opera Workshop will perform a concert of popular opera arias and ensembles by composers such as Mozart and Kurt Weill. The City worked closely with FIU to select operatic pieces that are light, recognizable and fan favorites; songs you will know or fall in love with.
The students will celebrate the 200th birthday of Giuseppe Verdi, with selections from La Traviata, Ernani, Rigoletto, MacBeth, and Falstaff. Other composers represented on the program will include Bizet, Offenbach, Cilea, and Puccini. The concert will conclude with selections from the 'Broadway' operas of Kurt Weill, including Happy End, Lost in the Stars, and The Firebrand of Florence. Following the performance, take time to meet the stars of the show over a light snack on the patio.
This event is free for Resident ID Card Holders and $5.00 for all others and is scheduled at 7:30 p.m. at the Norman S. Edelcup SIB K-8 (201 – 182 Drive). Tickets may be purchased at the SIB Visitor Center (18070 Collins Avenue) or Pelican Community Park (18115 North Bay Road), for any questions please call 305.792.1706. The Four Seasons Cultural Series is brought to Sunny Isles Beach with the commitment to making the classical arts accessible to all ages in our community.