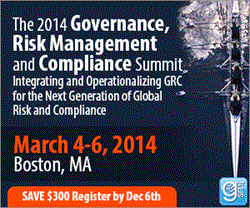 Many companies have jumped on the BYOD bandwagon. It's important for counsel to understand the business drivers behind this trend and to address the changing privacy and security landscape that comes with adoption of BYOD
Boston, MA (PRWEB) December 03, 2013
GSMI is excited to announce Gretchen Herault, VP, Compliance and Fraud Prevention and Deputy Chief Privacy Officer at Monster will be speaking at the GRC Summit Boston this March 4-6, 2014.
Herault will be speaking on the topic of BYOD Policies: Addressing the Security Gap with Monitoring & Enforcement Strategies. In this session, she will look at the factors driving companies to implement Bring Your Own Device programs, the privacy and security risks of BYOD, and elements of an effective BYOD strategy.
"Many companies have jumped on the BYOD bandwagon. It's important for counsel to understand the business drivers behind this trend and to address the changing privacy and security landscape that comes with adoption of BYOD," stated Herault.
As Vice President, Compliance and Fraud Prevention and Deputy Chief Privacy Officer at Monster Worldwide, Inc., the owner of global online job board Monster.com, Herault is responsible for global oversight of both Monster's privacy and fraud prevention programs, managing a multinational team of 45 professionals.
Prior to joining Monster, Gretchen served as Executive Vice President and General Counsel at Graduate Leverage and previously worked as regulatory and litigation counsel in the financial services industry for over ten years. Gretchen serves on the Education Advisory Board of the International Association of Privacy Professionals, and holds the CIPP/US certification, and is a frequent speaker on privacy and online fraud prevention topics.
As GRC evolves into GRC 3.0, integration and operationalization across business strategy is key. This year's Summit will highlight best practices and lessons learned from leading companies in risk and compliance. The program has 4 unique session tracks including: Audit Management, Risk Management, Compliance and IT/Data Security. The Summit gathers leaders in the industry including OCEG fellows Brian Barnier and Michael Rasmussen to share thoughts on operational risk management, risk appetite and the future of GRC.
For more information please visit http://www.thegrcsummit.com. Early bird discounts are available before Friday, December 6th.
Twitter: @gsmionline
Facebook: Facebook.com/gsmiweb
Event Hashtag: #GRCSummit
Join the conversation with our LinkedIn Group
GSMI is a leader in the industry of executive education, creating conferences, summits, workshops and training sessions that combine rich learning environments with the opportunity to network with today's most relevant thought leaders, speakers and practitioners. GSMI's annual events have reached 80% of the Fortune 500 companies, in over 30 countries, covering topics that today's leaders find most challenging and inspiring.