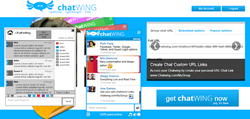 Los Angeles, CA (PRWEB) December 05, 2013
With dozens of users coming in from different online sectors, Chatwing chatrooms have encountered several slowdown moments in the past week. To counter this, Chatwing's elite developers started fine-tuning the widget. The positive effects of the enhancement will be felt before October ends. The team also believes that this is an essential strategic move before Chatwing Android is released.
"Basically, we have located a few bugs," Says Mike Diamond, one of Chatwing's chat software project leaders. "These bugs have caused lag issues in many chatrooms. We received messages from users who have been affected by those issues. We take things seriously in the Chatwing chat room office, so we have decided to launch an enhancement strategy. People can think that it is a backdoor update—there may or may not be a maintenance scheme, but we are certain that this is for the better."
Few weeks ago, Chatwing developers also tweaked the chat widget's Facebook login method. With this improvement, users were able to log in with their Facebook accounts easily—all lags have been terminated. Now, the developers are still keeping a keen eye on the login methods since the Tumblr accessibility was introduced.
As for premium services, Chatwing chat app saw no lag issues. Users can purchase virtual coins anytime to avail the premium services. While there are no potent issues, the company is still on the lookout, especially on the online payment section. For more information about updates and maintenance checks, users can visit Chatwing's blogs and social sectors.
About Chatwing.com
Chatwing.com is a company that has brought innovation to the modern chat widget. Operating for more than five years now, Chatwing and its team of developers have dozens of ideas ready to be introduced to the public. The Chatwing chat app is an easy-to-use online tool that can help web users interact with each other and can also generate continuous traffic. Chatwing will always be a "freemium" application for everyone.