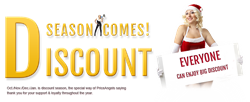 (PRWEB) November 27, 2013
Today, PriceAngels, a company that is devoted to the wholesale and retail of China electronics, announces that its Black Friday Sale starts at 4:00AM, Nov. 28, 2013. This is a site-wide promotion of up to 55% off, and it is valid for the day of Black Friday only.
PriceAngels is offering thousands of electronic products. The company has recently released its new PA GT-I9500 smartphone collection and these smartphones are also available at discounted prices now. The company knows that many people are looking for great deals in the holiday shopping season, and they have a great selection of products in stock to ensure that all customers can receive their orders soon after payment.
PriceAngels is famous for its super low prices and free shipping worldwide. Even a customer buys a gadget at $0.99, the customers can enjoy the free delivery provided by the company, and receive the order within the promised time. Those who want to buy ideal electronic items to mark the day, PriceAngels' Black Friday Sale is absolutely a good choice.
A spokesman for the company says, "We are providing a unique shopping experience for the clients worldwide with conveniences such as a wide range of choices with outstanding services. Customers can access a great selection directly from our website through their computers, smartphones or tablets. Once we have products in stock, we can send the goods within the same say."
About PriceAngels.com
PriceAngels.com has much experience in the wholesale and retail of China electronics. The reasons to choose PriceAngels are very simple: PriceAngels offers top quality cool gadgets at affordable prices, and all their products have free shipping. Moreover, with a perfect online presence, PriceAngels.com is able to serve its clients anywhere in the world. For more details, please view: http://www.priceangels.com/.
Follow PriceAngels at:
Facebook: https://www.facebook.com/PriceAngels
Twitter: https://twitter.com/Priceangels2008