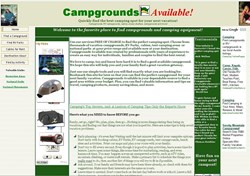 With these new sites, we hope to take advantage of this market and provide a valuable service for those seeking a place to stay, especially campers
Austin TX (PRWEB) November 27, 2013
This service is complimentary to the RentalHomesAvailable.com website, which allows for customers to find rental homes, and RealEstateAvailable.com, which helps homebuyers find their dream home.
"We are finding an enthusiastic response to our 'Campgrounds Available' website. Up until now, we have focused on homes for rent and for sale", says Wayne Gathright, president of W G Software, Inc. which owns the Tenant File company. He further commented, "However, we have identified that there is a huge market in the rental of cabins, campsites, vacation homes, RV parks, campgrounds and more. With these new sites, we hope to take advantage of this market and provide a valuable service for those seeking a place to stay, especially campers."
When a visitor goes to the Campgrounds Available website, they can search for campsites throughout the United States, including well known recreation areas, secluded areas, National Parks, and National Monuments. Additionally, the user can find vacation homes, cabins, condos, and other types of rentals. There are also helpful articles for campers, destination ideas, camping supplies, and guides. The visitor is even able to find by activity, such as boating areas, hiking, fishing, off-roading areas, and rock climbing.
About the Tenant File and Campgrounds Available website:
The Tenant File has been a leader in property management software since 1994. The product is sold in all 50 states and other countries in North America. The primary goal is to provide easy to use software for small to mid-size owners, landlords, and property managers of any type of rental property. The new camping oriented websites offer free services for anyone interested in outdoor camping or recreational areas.