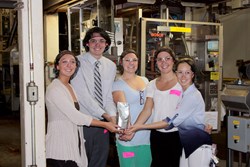 "This is not just a typical school project."
Virginia Beach, VA (PRWEB) November 28, 2013
While most students are on Thanksgiving break or plotting their "Black Friday" shopping strategies, some Virginia students are crunching sales figures and reviewing package redesigns for their small business.
Earlier this spring, twenty-four high school students at Cape Henry Collegiate launched their own coffee enterprise – the Compass Rose Coffee Company – and are producing and marketing branded coffee to consumers worldwide via the Internet and social media.
Massimo Zanetti Beverage USA, (MZB) an international coffee company headquartered in nearby Portsmouth, Va., is helping to guide the students in the endeavor. Although MZB provides advice, technical expertise and occasional staff support, everything else about the 'real world' company is completely student-run, including finding a venture capital grant to contract its coffee production from MZB.
"This is not just a typical school project," said 2013 senior Lindsay Castleberry and the Compass Rose Coffee Company's first CEO. The company's first product, Neptune's Brew, a 100 percent Colombian ground coffee blend, hit the market in mid-April and can be purchased for $6.95 online at http://www.compassrosecoffee.org
"We created a company from the ground up to learn about global commerce while turning profits into financial support to help more young people from our school travel abroad for outreach experiences and educational programs," Castleberry said. "It's not just the brew; it's what the brew can do."
Since her graduation in May, Castleberry was succeeded as CEO by Lucy Willis, a member of Cape Henry's class of 2015. "I am excited to see where the new year will take us. We have already come so far and learned so much but we are only at the tip of the iceberg."
The Cape Henry Collegiate Nexus Global Studies Program seeks to introduce students to a wide variety of stimulating experiences that will foster an awareness of the global community, according to faculty advisory, William Fluharty. Cape Henry Collegiate is an independent school of over 800 students for grades pre-K to 12 located in Virginia Beach.
Fluharty said the process of creating the company will help Cape Henry students not only learn about the basics of corporate structure and global business models, but integrated factors such as production, transportation, import/export regulations, finance, accounting, marketing, advertising, manufacturing, distribution, sales and communication. "This project based collaboration between Massimo Zanetti personnel passing their business knowledge directly to Cape Henry students is a prime example of a corporate-education partnership," according to Fluharty.
Compass Rose Coffee Company has a typical corporate structure including a board of advisers, chief executive, operating and financial officers and a director of marketing. Each officer directs a team of students with interest in a particular field. For the new 2013-14 school year, a new set of officers and operations team is setting up shop to carry on the work started last year.
The process took nearly the full 2013 school year to get from concept to production, and the student team worked on every detail assisted by the guidance from the parent company.
"We want to thank Massimo Zanetti Beverage, O'Brien et al. Advertising, Palladium LLC and the Beazley Foundation for all their support and for helping us to learn and grow in our business," Willis said. "Each company has shared their 'real world' knowledge and experience with us and provided a unique opportunity to learn directly from the best in the business."
ABOUT THE NEXUS PROGRAM
All proceeds from this novel entrepreneurial exercise will go to the Nexus Financial Aid fund providing assistance to qualified students to travel on the many Nexus travel programs. Through the Nexus Program, Cape Henry students have been around the world, from visiting with the Dali Lama to working with community service programs in New Orleans helping Hurricane Katrina victims. The goal of Compass Rose Coffee Company is for every Cape Henry student to participate in at least one Nexus international program prior to graduation. Neptune's Brew and other coffee blends can be purchased online at http://compassrosecoffee.webs.com/ or in the school's "Spirit Store."