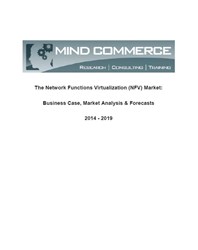 Rockville, MD (PRWEB) December 06, 2013
The Network Functions Virtualization (NFV) Market: Business Case, Market Analysis & Forecasts 2014 – 2019
Network Functions Virtualization (NFV) is a telecom led initiative that aims to utilize standard IT virtualization technology to consolidate many telco network equipment types onto industry standard high volume servers, switches and storage. NFV involves implementing network functions in software that can run on a range of industry standard server hardware, and that can be moved to, or instantiated in, various locations in the network as required, without the need to install new proprietary equipment.
With a promise to drive significant CapEx and OpEx reductions, NFV is poised to transform the entire telco infrastructure ecosystem. Mind Commerce estimates that global spending on NFV solutions will grow at a CAGR of 46% between 2014 and 2019. NFV revenues will reach $1.3 Billion by the end of 2019.
This report provides an in-depth assessment of the global NFV market, including a study of the business case, technology, use cases, vendor landscape, and a quantitative assessment of the industry from 2014 to 2019.
To order this report:
The Network Functions Virtualization (NFV) Market: Business Case, Market Analysis & Forecasts 2014 – 2019
Contact: Shauna
800.298.5699
Customerservice(at)marketresearch(dot)com
Mind Commerce Publishing
The Mind Commerce® mission is to provide customized research, consulting, training, and writing services for the telecommunications and IT industry. Mind Commerce clients include manufacturers, developers, service providers, industry organizations, and government. Mind Commerce differentiates itself from its competition by meeting the unique needs of its clients through customized product development and service delivery.
About MarketResearch.com
MarketResearch.com is the leading provider of global market intelligence products and services. With research reports from more than 720 top consulting and advisory firms, MarketResearch.com offers instant online access to the world's most extensive database of expert insights on global industries, companies, products, and trends. Moreover, MarketResearch.com's Research Specialists have in-depth knowledge of the publishers and the various types of reports in their respective industries and are ready to provide research assistance.
Follow us on Facebook http://www.facebook.com/marketresearchdotcom
Follow us on Twitter http://www.twitter.com/marketresearch_
The Network Functions Virtualization (NFV) Market: Business Case, Market Analysis & Forecasts 2014 – 2019 – Table of Contents:
1 Chapter 1: Introduction
2 Chapter 2: NFV Technology & Business Case
3 Chapter 3: NFV Use Cases, Implementation Areas & Case Studies
3.1 Mobile Core & IMS
3.2 RAN & HetNets: Enabling Cloud RAN
3.3 Home Environment Virtualization
3.4 NFV based Infrastructure as a Service (IaaS)
3.5 What are the other trajectories for the network and NFV should/could be aware of (they all matter)?
3.6 NFV Implementation Case Studies
3.6.1 BT
3.6.2 AT&T
4 Chapter 4: NFV Vendor Landscape
5 Chapter 5: Key Issues in an NFV World
6 Chapter 6: Forecasts