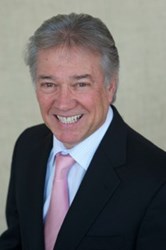 Dallas, TX (PRWEB) November 28, 2013
Since November is Pancreatic Cancer Awareness Month, Michael Neeley, DDS, PA, urges people who currently have gum pain to schedule an appointment with him to discuss their increased likelihood of developing pancreatic cancer and to learn about the advanced tools he uses to reduce this recently discovered possible cancer risk. With state-of-the-art Laser Assisted New Attachment Procedure (LANAP) technology, Dr. Neeley provides a gum surgery alternative in Dallas.
Pancreatic cancer is one of the deadliest types of cancer. More than 30,000 Americans will likely die from it in 2013. Unfortunately, this cancer is very difficult to treat and its causes are not well understood. However, the results of a medical study published in 2007 provide solid evidence that periodontal disease may increase the risk of developing pancreatic cancer. More than 50,000 men working in the U.S. health industry participated in the study. After normalizing and analyzing the data that were gathered over a sixteen year period, researchers discovered that those participants with periodontal, or gum disease were 63 percent more likely to develop the cancer. Furthermore, those participants who smoked were twice as likely to get pancreatic cancer.
A correlation between gum disease and pancreatic cancer may be the inflammation that can result from periodontitis. The early stage of gum disease is called gingivitis, and it shows up as red or swollen gums, or even bleeding gums. If gingivitis is not treated, it can advance to the more serious gum disease, periodontitis, which is an infection of the gums with associated inflammation and possible destruction of bone and tissues that support teeth. Another possible correlation may be the fact that people with gum disease have increased levels of bacteria and nitrosamines, which are carcinogenic (i.e., involved in the development of cancer).
Instead of using conventional oral surgery to treat gum disease, Dr. Neeley provides a gum surgery alternative in Dallas that reduces the pain, loss of non-infected gum tissue, and lengthy recovery times that typically result from oral surgery involving a scalpel. Using modern LANAP technology, Dr. Neeley employs a laser to perform the oral surgery. The laser does not harm healthy tissue, yet it is effective in removing infected gum tissue. In addition, the laser sterilizes the infected area and minimizes bleeding. LANAP technology is truly a major advancement in oral surgery.
People with gum pain who want to reduce the possibility of developing pancreatic cancer should make an appointment with Dr. Neeley. Using LANAP technology, Dr. Neeley offers a gum surgery alternative in Dallas that can efficiently treat the gum disease that might lead to pancreatic cancer.
About the Doctor
Michael Neeley, DDS, PA, is a general dentist offering personalized dental care for Dallas, TX gum disease patients. Dr. Neeley is part of one percent of dental professionals providing the LANAP FDA cleared laser procedure for gum disease and periodontal treatment. To learn more about Michael Neeley, DDS, PA, and his dental services visit his website at http://www.dallasdds.net and call (214) 306-9033.