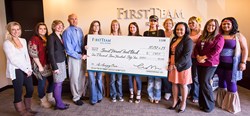 "Our partnering with Second Harvest Foodbank was a great kick off to an effort that also gathered thousands of pounds of food in OC and LA counties and has spurred many other efforts," said Rick Brotherton, First Team Real Estate
Irvine, CA (PRWEB) December 05, 2013
Serving every community in Southern California takes on a great meaning when First Team Real Estate and its agents swing into action.
Starting the holiday season with a $1,700 donation to Orange County's nationally known food bank, Second Harvest Foodbank of Orange County, First Team and its nearly 1,800 agents and real estate professionals are in the middle of a holiday season of charitable activity.
"Over 600,000 Southern California residents will be at risk for missing a meal this holiday season and First Team and its agents are trying to give resources to the wonderful organizations that are working so hard to serve those in need," said Rick Brotherton, Vice President, Marketing, First Team Real Estate. "Our partnering with Second Harvest Foodbank was a great kick off to an effort that also gathered thousands of pounds of food in OC and LA counties and has spurred many other efforts."
Coordinated out of First Team Real Estate's First in Our Hearts non-profit fund, the donation to Second Harvest Food Bank follows a year in which First Team and its professional and agent network have participated in literally dozens of schools, hospitals, and other activity throughout Southern California.
"Southern California is our home. We were founded and have grown into California's largest independent real estate brokerage here," explained Rick Brotherton. "It is an honor to work with so many great non-profits and charitable people who are making our community better one life at a time."
ABOUT FIRST TEAM REAL ESTATE
Growing from a single office in Huntington Beach, CA in 1976, First Team Real Estate is now Southern California's largest and most trusted private real estate agency with offices across California. In 2011, 2012, and 2013 First Team was recognized as Best Real Estate Company by the annual Orange County Register survey of 100,000 Southern California households. We can be reached at (888) 236-1943.
ABOUT FIRSTTEAM.COM
Firstteam.com is the official website of First Team Real Estate, and is used daily by thousands of unique users who trust its property and market analysis data which is updated four times daily on average. According to independent rating organizations of Internet usage and reach, firstteam.com is the most used brokerage property web site serving Southern California. For more information go to http://ow.ly/lZH0G.