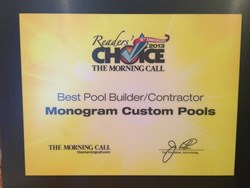 #1 Pool Builder in Lehigh Valley
Coopersburg, PA (PRWEB) November 29, 2013
Monogram Custom Pools has been voted Lehigh Valley's Best Pool Builder for 2013 by the Allentown Morning Call readers.
Over the past 19 years, Monogram has won over 40 awards for professional excellence, including numerous for "Excellence in Energy Efficiency," "Lehigh Valley's Best Pool Builder" and the coveted Better Business Bureau Premier Award for "Excellence in Customer Service."
Monogram's unique and synergistic home and pool designs have allowed them to offer a total solution to customers' needs when designing their homes, renovations, or backyard retreats. In addition, their creation of the "hassle free pool" has elevated customer satisfaction to a new level.
Through an innovative use of technology, Monogram's hassle-free salt water pools are iPhone® controlled, require no manual vacuuming, no filter backwashing, no manual addition of chlorine or harsh chemicals and the pH and sanitizer levels are managed automatically and monitored remotely at Monogram's office. Customers end up spending much more time in their pools instead of working on them.
For more information about Monogram Custom Pools or Monogram Custom Homes, contact Tony Caciolo or visit http://www.monogramcustompools.com or http://www.monogramcustomhomes.com.
About Monogram Custom Homes and Monogram Custom Pools:
Monogram was founded in 1994 by 2 Lehigh University alumi, Chip Shupe and Tony Caciolo. Since then, Monogram has built over 400 houses/pools/additions in the Lehigh Valley, PA area and has the distinction of being the only builder in the area to receive the Better Business Bureau's Premier Award for Excellence in Customer Service.