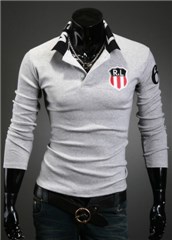 (PRWEB) November 29, 2013
Recently, 4leafcity.com, a famous China-based clothing supplier, has announced its new series of long sleeve shirts for men. So far, the company's website has been updated with various kinds of fashionable and comfortable shirts. Additionally, any order above $60 can get free delivery.
"We are proud to announce the new range of cheap long sleeve shirts for men. The special offer is valid for only a short time. Gentlemen from around the world should visit our online shop as soon as possible. All the new shirts are fashionable and comfortable. Customers don't need to worry about their quality. Each of them is guaranteed to be quality made and come with a 10-day money-back guarantee," the CEO of the company states.
All the newly released products are offered at very low rates now. For example, an item called "3-Ruler Men's Casual White V-neck Embroidery Shoulder Board Patch Long Sleeves Shirt" was priced $10.99 only. Most of them are priced below $15. However, at the company's website, low prices don't always equal poor quality. That is why its products are so popular among international consumers.
The aim of the company is to facilitate worldwide customers by providing affordable and stylish clothes for men and women throughout the world. Its website is a one-stop platform, offering convenient shopping experience for clients.
About 4leafcity.com
4leafcity.com was founded in 2009 and serves more than 5000 customers from every part of the world. It is one of the leading suppliers of men's and women's clothes, helping the people worldwide develop self-esteem, confidence and love of learning. For a full list of services and to learn more about 4leafcity.com, please visit http://www.4leafcity.com/product-long-sleeves-shirts-009001003.aspx.