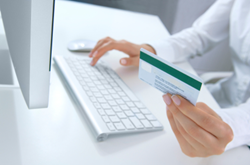 The number of Canadians who are opting to make credit purchases online has never been higher.
Toronto, Ontario, Canada (PRWEB) November 29, 2013
While many individuals will brave the crowds to do their shopping in traditional brick-and-mortar stores this Black Friday and Cyber Monday, the number of Canadians who are opting to make credit purchases online has never been higher.
Nearly half of Canadians are planning to hunt for deals this Black Friday and Cyber Monday, spending an average of $292 with 28% of individuals preferring to find their deals online rather than in a physical store. Small business merchants without an online presence and the ability to process credit card and debit transactions remotely are at a severe disadvantage on one of the busiest shopping days of the Holiday season.
MONEXgroup offers your business eCommerce Solutions that will give you the ability to securely and affordably process online purchases, letting your customers' shop – however they please.
"Our eCommerce solutions can help your business keep with the current trends in retail," says Parry Rosenberg, Vice President of Sales and Marketing at MONEXgroup. "Don't get left out in the cold this Holiday Selling Season."
Ernst and Young's latest America's Retail Quarterly Report states that overall retail sales are set to increase by 3.5 percent in the 2013 holiday season, with a growing percentage of those sales taking place online. Ensure that your business is making it easy for your customers this Holiday season with eCommerce solutions from MONEXgroup.
MONEXgroup is the leading independent provider of payment processing services in Canada offering the lowest rates in the industry. Our services include: debit card and credit card point-of-sale (pos) terminals, mobile, integrated and e-commerce online payment products. MONEXgroup serves over 20,000 merchant accounts across Canada in all market segments including: restaurants, business-to-business, professional services, leisure and hospitality.
Holly Murray
MONEXgroup
Marketing Communications
HMurray(at)MonexGroup(dot)com
T: 647 204 0197
http://www.monexgroup.com