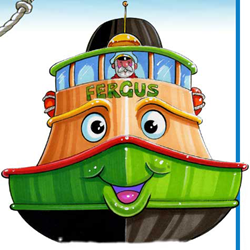 Sydney South, Australia (PRWEB) December 03, 2013
The star of 24 best-selling children's books comes to Apple & Android for Xmas with an amazing offer.
Great news for fans of the loveable Fergus Ferry, star of the popular 24 book series for children aged 2-6, as he now stars in his own app for the iPhone, iPad, and Android.
The new app features all 24 of the Fergus Ferry stories that can be read aloud through the app to the young reader or they can read the words themselves and follow all of his amazing adventures.
As well as featuring all of the stories in ebook form, the app also has a fun game where the player can control Fergus and steer him around Seaport Harbour, rescuing swimmers, scaring off sharks and avoiding crashes. There is also an interactive harbour to explore and find out more about Fergus' home and friends.
The app comes in two modes - a free mode which contains four of the most popular stories and one level of the game or a full, paid-for, mode which includes all 24 stories and the full version of the game.
To celebrate the launch of the Fergus Ferry apps, Fergus has a great Christmas present for all his friends and their families - for a limited time from Christmas Day to January 31st 2014, both versions of the app will be free. If that wasn't exciting enough, the ebook versions of the stories will also be available for free for the same time to download from Amazon, iBooks or Barnes & Noble.
Since Fergus was launched over 60,000 Fergus books have delighted young readers who have been thrilled by his incredible adventures and many parents and teachers have taken time to spell out why they love the fearless little Ferryboat in the review sections (Fergus has 70 reviews, average 4.5 stars on Amazon). Fergus not only gives great examples of helping, sharing and being a good friend but each book also contains a message especially for parents and children.
The Fergus Ferry app is available now both in the iTunes store for Apple devices like the iPad and iPhone or the Google Play Store for Android devices. More information on the app and the Fergus Ferry stories, teacher notes and even more fun games and puzzles can be found at http://www.FergusFerry.com or get the LITE version of the app (at no cost) here:
https://itunes.apple.com/us/app/fergus-ferry-lite/id504233185?ls=1&mt=8.
Notes to Editors
The Fergus Ferry App was created by Snowball Press Pty Ltd. The Fergus Ferry books are written by J W Noble and Peter Townsend.
For more information on the app or Fergus Ferry please contact (Aus) +612 9263 4030 or jwn(at)snowballpress(dot)com or write to Snowball Press PO Box A2619, Sydney South, NSW 1235, Australia.