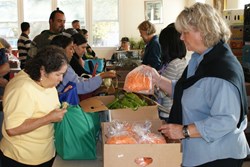 We are serving over 500 families every week at our food and clothing bank. And our families are not homeless and unemployed…these are WORKING families, who simply can't make ends meet.
Seattle, WA (PRWEB) December 04, 2013
Rosanna Inc. is holding its biggest and best Biannual Warehouse Sale ever this Saturday, December 7th, at 6755 East Marginal Way South, Seattle 98108 to benefit Providence Health and Services' Regina House, a Seattle food and clothing bank.
This is a wonderful time to do holiday shopping and get great deals on Rosanna collections. There will also be rare and hard-to-find Rosanna pieces (as well as some new surprises).
Regina House is helping a community of people who are facing difficult times due to the economic downturn in Seattle. Through the Biannual Warehouse Sale we are helping Regina House reach out and help fellow Seattleites make it through this challenging time. We are taking much-needed food donations, unwrapped educational toys and books and cash donations. Guests will receive one raffle ticket for each item brought for a chance to win a beautiful gift basket of Rosanna items.
Rosanna Bowles, President and Art Director Rosanna Inc., says, "We hope people will come for holiday shopping but also join in helping the working poor thrive and face the challenges that confront them on a daily basis. A donation of food and clothing can make the arduous journey back to normalcy so much easier. We can all make a difference in making the world a better place. It is as simple as reaching out individually to help. One small gesture can begin a movement toward change."
Paige Collins, Manager of Providence Regina House food and clothing banks, says, "The need in the community has grown gigantically since the economy took a downturn in 2007 or so. We have seen an increase in numbers, from 2006-7 when we regularly served about 100 families…to now, we are serving over 500 families every week. And Regina House families are not homeless and unemployed…these are WORKING families, who simply can't make ends meet. One example of how close we all are to having to utilize food banks….one families I was speaking to recently (and actually, this is a story I hear a lot) the Dad had a decent paying job, until Mom got really ill and was hospitalized, then Dad had to leave his job to take care of the kids, and wham, they are on the verge of being homeless and have to utilize the food bank and other emergency programs in order to survive."
Regina House's greatest needs right now are:

Protein items such as tuna, chili, peanut butter and soups of all types
Holiday/food: whole chickens, hams, pies and family-sized plastic bottles of juice
Blankets, jackets/coats and especially mens clothing
Holiday-wise: unwrapped, new toys for Christmas distribution on Saturday, December 21st (these go out to all families who were NOT adopted), as well as pre-stuffed stockings for children of all ages