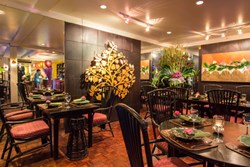 The new Chef's Corner section brings foodies into contact with some of Bangkok's leading chefs. These chefs are passionate about their work and simply cannot wait to share their favourite recipes with you
(PRWEB) December 05, 2013
The city of Bangkok boasts hundreds of excellent restaurants that specialise in cuisine from all over the world. The team at Bangkok Nightlife presents unbiased reviews of Bangkok's hottest restaurants, and each week their food critics set out on a mission to sample the signature dishes of selected eateries and report on what they find.
In addition to descriptions of various different restaurants in Bangkok, the Bangkok Nightlife team also writes about other aspects of eating in Thailand. People who have always wanted to know which Thai dishes are ideal for people on a diet or want to pick up tips on ordering in Thai should check out the latest food articles.
One of the great things about Bangkok Nightlife's restaurant reviews and articles is that they come complete with full colour photographs of both the restaurants themselves and some of their signature dishes. Bangkok Nightlife also takes visitors to the website on a guided tour of selected restaurants with our vibrant high definition videos, which allow people to get a real feel for the full dining experience. Short overviews of various different restaurants also allow people to see what they offer and where they are located at a glance and are ideal for people who need to find food in a hurry.
Bangkok Nightlife features a wide range of different types of restaurants, from eateries that specialise in gourmet Thai cuisine to those that offer authentic Western dishes such as steak, hamburgers and French fries. No matter what people want to sink your teeth into, they are sure to find plenty of great options.
The new Chef's Corner section brings foodies into contact with some of Bangkok's leading chefs. These chefs are passionate about their work and simply cannot wait to share their favourite recipes. Each week visitors to this dynamic section will be presented with easy to follow recipes that allow people to create some of your favourite dishes at home. Learning how to be a top chef is easy with the new Chef's Corner section and people will be able to follow these special recipes to impress their friends and family.
For people who are planning to take a certain someone special out for a meal but are having trouble coming up with original ideas, Bangkok Nightlife is here to help. Each of the restaurants that is featured on the main page is accompanied by a small photograph, which allows visitors to the site to see at a glance whether the restaurant is for them before clicking on the article title to read more.
The restaurant section of the Bangkok Nightlife website also features a map of the city. This map also features markers for all of the most popular restaurants in the city, which makes it easy for people to find their favourite restaurant and plan the route that they will take to get there.