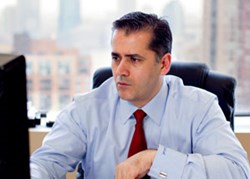 What makes me proud the most is the gratitude I get from my clients.
New York City, NY (PRWEB) December 02, 2013
Akin Law Group, PLLC is proud to announce that its managing partner, Zafer Akin, has received recognition in the 2013 edition of The Legal Network as a Top Lawyer in New York. Mr. Akin was honored for having the highest in ethical standards and professional excellence.
Zafer A. Akin is an experienced litigator who has practiced law for more than 17 years, specifically in the areas of employment discrimination, sexual harassment, hostile work environment, minimum wage / over-time claims and civil rights litigation including personal injury. Mr. Akin received his Juris Doctor (J.D.) degree from Hofstra University in 1994 after graduating cum laude from the City University of New York, Brooklyn Campus in 1991 with a double major in Accounting and Business Administration.
"Every day, I get to help people — I get to be the voice of employees victimized at their job whether it be racial discrimination, religious discrimination, sexual harassment or a hostile work environment" said Zafer Akin. "Being named one of the Top Lawyers in New York is obviously something to be proud of, but what makes me proud the most is the gratitude I get from my clients."
About the Akin Law Group, PLLC
The attorneys at the Akin Law Group, PLLC in Downtown Manhattan represent employees who have been victimized as a result of sexual harassment and employment discrimination. The firm strives to preserve the rights of individuals victimized by sexual harassment, or discriminate because of their sexual orientation, race, religion, color, creed, disability or pregnancy. In addition, the firm stands by those employees wrongfully denied minimum wage or over time. The firm's personalized approach ensures that cases are handled aggressively, expeditiously and with utmost discretion and privacy.
The Akin Law Group, PLLC is a boutique firm that serves the needs of employees and workers in New York State, with a concentration in New York City, including Brooklyn, the Bronx, Manhattan, Queens and Staten Island, as well as Westchester and Long Island.
For more information about the firm, please visit http://www.akinlaws.com or call 866.685.5136.