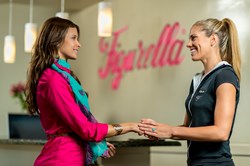 We pride ourselves in providing a comprehensive weight loss procedure.
Miami, FL (PRWEB) December 03, 2013
A recent study in south Florida of several weight loss techniques has found the Figurella method to be 98% more effective than others. According to the study, Figurella's method is more effective because the company focuses on a holistic approach to fitness that includes nutrition, exercise, and most importantly, the detoxification of the body through with active oxygenation.
According to Figurella spokesperson, Giulia Di Loreto, "Figurella is 100% natural and is designed specifically for women. We also personalize each experience to the individual client."When asked about the findings of this study, Di Loreto is not surprised. "We pride ourselves in providing a comprehensive weight loss procedure," she says.
That comprehensive procedure begins with a one-on-one consult that uncovers the needs and goals of the client. After the consult, each 60-minute session is divided into two key phases. First, physical exercise in the patented Bubble stimulates the disposal of fat stored in trouble areas. Next, the active oxygen bath in the SpaShell continues to promote metabolism and skin rejuvenation. Finally, expert dieticians present clients with nutritional advice aimed at restoring dietary balance and healthy relationships between clients and food.
This holistic approach has proven successful for the international company. Figurella has been an active force in the wellness industry for over three decades. They have successful centers in Europe and South America that have won worldwide recognition in the weight loss industry. "It's nice to see Figurella perform this well in a local study," Di Loreto says of the south Florida report.
As a part of the company's efforts to spread the word about the Figurella method's success, the two centers in Florida will be running specials throughout the holiday season.
For more information about these seasonal specials, or to schedule a consult, contact one of the Figurella weight loss centers:
Figurella Coral Gables
1600 Ponce de Leon Boulevard
Coral Gables, Florida 33134
786-777-8951
Figurella Palm Beach Gardens
5100 PGA Boulevard, Suite 101
Palm Beach Gardens, Florida 33418
561-799-3600
Hours of operation at both centers are Monday – Friday from 9:00 a.m. – 7:00 p.m.
Appointments can also be made online at http://www.figurellausa.com.