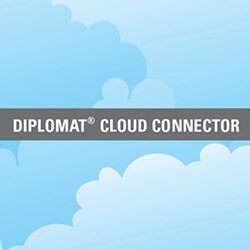 Diplomat Cloud Connector makes Open PGP encryption much easier to implement.
Wellesley, MA (PRWEB) December 19, 2013
Coviant Software extends the reach of Diplomat Managed File Transfer with the beta release of Diplomat Cloud Connector, a new highly secure transport method built on OpenPGP encryption. Diplomat Cloud Connector enables one-step data transfers between secure locations. Data no longer needs to reside outside the firewall on transport servers, such as FTP, web or email servers.
Diplomat Cloud Connector can be deployed in any location – on internal networks, at a remote office, a trading partner site or in the cloud. OpenPGP authentication ensures each Diplomat Cloud Connector site is paired with a single Diplomat MFT site. All secure file transfer jobs are initiated by Diplomat Managed File Transfer which controls exactly which Diplomat Cloud Connector sites are allowed to send and receive files.
Diplomat Cloud Connector enables unattended operation with all automation and management provided by Diplomat Managed File Transfer. Diplomat MFT and Cloud Connector work together to automatically OpenPGP encrypt files before sending and decrypt them before writing to their final destination. Diplomat Cloud Connector also offers new checkpoint restart capabilities to make file transfers more reliable.
"Diplomat Cloud Connector makes OpenPGP encryption much easier to implement," said Pam Reid, CEO of Coviant Software. "Implementing automatic OpenPGP encryption and decryption for a file transfer job is a simple as checking a box. And, OpenPGP keys are regularly updated with no manual intervention."
With Diplomat MFT and Cloud Connector, trading partners or remote offices no longer need a separate OpenPGP solution to encrypt and decrypt files. No FTP or secure FTP server is needed outside the firewall. Since Diplomat MFT manages file transfers in both directions, no other file transfer application is needed to move files between an FTP server and internal locations.
Organizations interested in Diplomat Cloud Connector should request a live demonstration or contact us for more information.
About Coviant Software
Coviant Software has been a trusted provider of OpenPGP encryption, decryption, signing, verification and other OpenPGP features for 10 years. Coviant Software delivers Managed File Transfer solutions to improve the productivity of file transfer administrators. Diplomat Managed File Transfer software uses Intelligent File Transfer(TM) design with embedded secure file transfer logic, so file transfer experts can quickly design and deploy file transfer jobs with fewer errors and failed transfers.