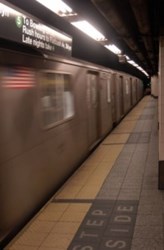 Investigators told the Times that the train operator reported taking the turn too fast and said that he had performed an emergency-braking maneuver
New York, N.Y (PRWEB) December 03, 2013
A train derailment in the Bronx left four people dead and more than 60 injured the morning of Dec. 1. According to a news report in The New York Times, the derailment occurred when a Hudson Line train went off the tracks while rounding a bend just north of the Spuyten Duyvil station. Four people were killed, more than 60 were injured, 11 critically, the report stated. Three of the four victims who died were ejected from the train after the windows shattered, according to the article.
Officials for the National Transportation Safety Board (NTSB) are investigating the incident. Although no determinations have been made yet, investigators told the Times that the train operator reported taking the turn too fast and said that he had performed an emergency-braking maneuver. The report states that the train's engineer has 14 years of experience with the line.
"This is obviously a very trying time for the crash victims and the family members of those who have lost loved ones," said New York personal injury lawyer Kenneth A. Wilhelm. "They will all be in our thoughts and prayers."
In train accident cases, investigations could take several months to conclude, Wilhelm said. "It is important that injured victims and families of deceased victims have a tenacious advocate on their side, who stays on top of the official investigation and ensures that their rights are protected every step of the way."
Train accident injuries can be extremely severe requiring lengthy hospitalization and rehabilitation, Wilhelm said. "Injured victims have legal rights in such cases. Mass transit carriers owe their passengers the highest duty of care. Regardless of whether this was the train operator's fault or a mechanical problem with the train or track, injured passengers and family members of deceased passengers are entitled to compensation for their significant losses." In one of our train accident cases, our client was awarded a $3,222,000 verdict (Index Number: 3746/1984, Supreme Court, New York County).
About the Law Offices of Kenneth A. Wilhelm
The Law Offices of Kenneth A. Wilhelm is a personal injury litigation firm with an unwavering dedication to its clients. With more than 42 years of experience, our firm strives to obtain the best compensation for those who have been injured or those who have lost a loved one due to an accident or by someone else's negligence. We handle cases dealing with personal injury, medical malpractice, wrongful death, train accidents, workers' compensation, dental malpractice, motor vehicle accidents, pedestrian accidents, rape, paralysis, comas, seizures, false arrest, lead poisoning, trips and slips and falls, falls on sidewalks or stairs, elevator accidents, construction accidents, Erb's palsy, cerebral palsy, brain damage, blindness, hearing loss, dog bite cases, fire and smoke inhalation accidents, bicycle accidents, falls from windows or scaffolds, food poisoning injuries, and many other types of accidents and injuries.
Please contact our New York personal injury attorneys TOLL FREE 24 hours a day, 7 days a week at 1-800-WORK-4-YOU (1-800-967-5496). WE CAN EVEN COME TO YOU. There is no attorneys' fee unless we recover money for you. We can also help with personal injury cases in New Jersey, Connecticut, Pennsylvania, or Florida. If you have been seriously injured in any of the 50 U.S. states, please call us and we will try to help you with your case.
Other TOLL FREE phone numbers for us are:
1-800-RADIO-LAW, 1-888-WYPADEK, OR 1-800-LAS-LEYES
The Law Offices of Kenneth A. Wilhelm
445 Park Ave, 9th Floor
New York, NY 10022
(212) 545-7373
Please visit us at: http://www.WORK4YOULAW.com