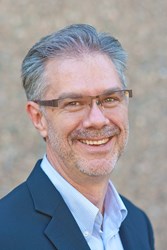 We are committed to providing high quality services to our blue chip clients who are working with Center Partners to promote and protect their brands in the US. - James P. Dunn, Center Partners CEO
Fort Collins, Colorado (PRWEB) December 03, 2013
Center Partners has hired Scott Prater as their new Vice President of Information Technology. Scott brings over 29 years of IT experience to the wholly U.S. based domestic call center, including 13 years working with customer service technologies. Building on Center Partners' industry recognized successes, he will be integral in defining a strategic technological road map and pioneering next generation solutions for both current and new clients. Scott began his career in the space and defense industry, and has brought the same focus and precision required to launch a satellite with him to successive roles in customer service and IT.
"We are committed to providing high quality services to our blue chip clients who are working with Center Partners to promote and protect their brands in the US," said Center Partners CEO James P. Dunn, "and Scott will be a great resource for helping us achieve that goal."
Scott has a broad vertical background, including leading Avaya's largest client service delivery program for the Home Depot, and managing technology transformation initiatives for Comcast. Scott also led the industry's first ever large scale hosted VoIP contact center transformation, converting 8000 seats to a hosted data center model while at AOL. Most recently, while at Contact Solutions, he managed Xerox BPO relationships while working with cloud based customer support solutions to successfully service over one billion calls annually.
Center Partners is a leading provider of high value contact center and web self-service solutions for consultative sales, customer service, technical support, outbound campaigns, and order entry/fulfillment. They work within multiple industries including retail, financial services, consumer electronics, telecommunications and wireless services. The company has 4,000 employees in 6 locations across Colorado, Idaho and Washington. It is a subsidiary of Kantar, the parent company for WPP's market research companies.