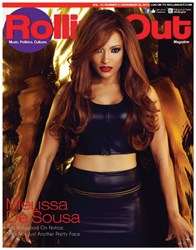 It's only been two days and I've been offered a 10-picture deal.
Atlanta, GA (PRWEB) December 03, 2013
They say in Hollywood you're only as good as your last film. Thespian Melissa De Sousa has waited 15 years to get her second wind. And now the wait is over with the box-office success of 'The Best Man Holiday,' the sequel to the 1998 film, 'The Best Man.'
"['Best Man'] came in at No. 1 at the box office at that time. It beat 'Fight Club' with Brad Pitt. I remember that being a big deal and all over the news. It's even bigger now because of social media," says De Sousa of the film. "It's only been two days and I've been offered a 10-picture deal [laughs]. The fans are just amazing and that's what just warms my heart the most. I feel like it's almost like a "movement" to the box office, when they come and support us. It's like everyone bands together and wants us to win."
"It's not always easy to get in the 'door.' You know when I first came to Los Angeles I slept on my girlfriend's floor for a year. I got my first agent and I sent my pictures out to everybody," she shares with Washington, D.C.-based journalist Mike James.
Visit rollingout.com to read the interview in its entirety. Be sure to check out this and other exclusive photo shoots and video footage with celebrity photographer DeWayne Rogers.
About rolling out Magazine:
Rolling out, the nation's largest free urban weekly, is a digital and print magazine that focuses on the black experience in response to entertainment, politics, fashion, culture, sports and lifestyle points of interest. Headquartered in Atlanta, rolling out is positioned as the voice for the African American experience, using its newspaper as a platform in the marketplace to express urgency for education reform, and to document entrepreneurial endeavors and other relevant issues in the Diaspora. For information on rolling out, please log on to rollingout.com.