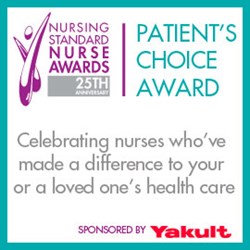 Nominate a nurse, midwife, health visitor or healthcare practitioner who has made a real difference to your or a loved one's healthcare.
(PRWEB UK) 5 December 2013
Patients, relatives and carers are being asked to nominate their nursing star for a special nursing award, The Patient's Choice Award.
"Nurses strive to give the best care to their patients, often in challenging circumstances," says Nursing Standard's editorial director, Jean Gray.
"Every day, nurses through their hard work and dedication help transform the lives of their patients and loved ones.
"Our award is the perfect opportunity to recognise and celebrate those special individuals and we want as many nurses as possible to be nominated for this award."
To make a nomination, members of the public simply need to describe how the individual went above and beyond the call of duty and why they deserve the award.
Nominations can be made online at http://www.patients-choice.co.uk or by calling 0208 423 1066 to request a paper entry form.
The closing date for nominations is Friday 10 January 2014.
The Patient's Choice Award is part of the Nursing Standard Nurse Awards which are organised by Nursing Standard, the UK's best selling nursing journal.
For futher information, please contact Rachel Weeden
E-mail: rachel.weeden(at)rcnpublishing(dot)co(dot)uk
Tel 020 8872 3168