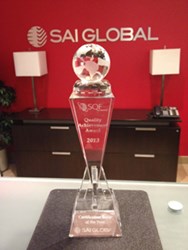 Cleveland, OH (PRWEB) December 05, 2013
The Safe Quality Food Institute (SQFI) has named SAI Global as SQF Certification Body of the Year 2013. As part of the annual Quality Achievement Awards, the honor was announced at the SQF International Conference in Louisville, KY. SAI Global was one of three finalists in the category, all of whom had been nominated by a customer.
"Our Outstanding Achievement Award recipients contribute to achieving the SQF mission; delivering consistent, globally recognized food safety and certification programs," said Robert Garfield, senior vice president of SQF Institute. "Producing safe food must remain a top priority for all food retailers and manufacturers, and we are pleased to recognize those who uphold the highest standards of food safety."
"We are thrilled and honored to receive this recognition from SQFI. This award is an embodiment of the dedication to excellence that SAI Global puts towards not only the SQF standard, but all of our Food Safety programs. We are proud to be acknowledged as a company who is committed to continually providing the highest quality of service to our food customers", said Chris Jouppi, President for SAI Global Assurance Services, Americas.
SAI Global is a worldwide leader in Food Safety auditing, training, certification and consulting, providing services for GFSI and non-GFSI programs including GMP, HACCP, GMA-SAFE, GLOBALGAP, MSC BRC, SQF, IFS, FSSC 22000. SAI Global works with companies around the world to ensure they not only meet recognized food safety standards, but also manage risk and strive for continual improvement.
To learn more about SAI Global's Food Safety auditing, certification, training and consulting programs, please visit http://www.saiglobal.com/assurance/food-safety